My experience and review of Prime Now, Amazon's Grocery service that delivers Whole Foods groceries from a nearby store to your door within a two-hour window.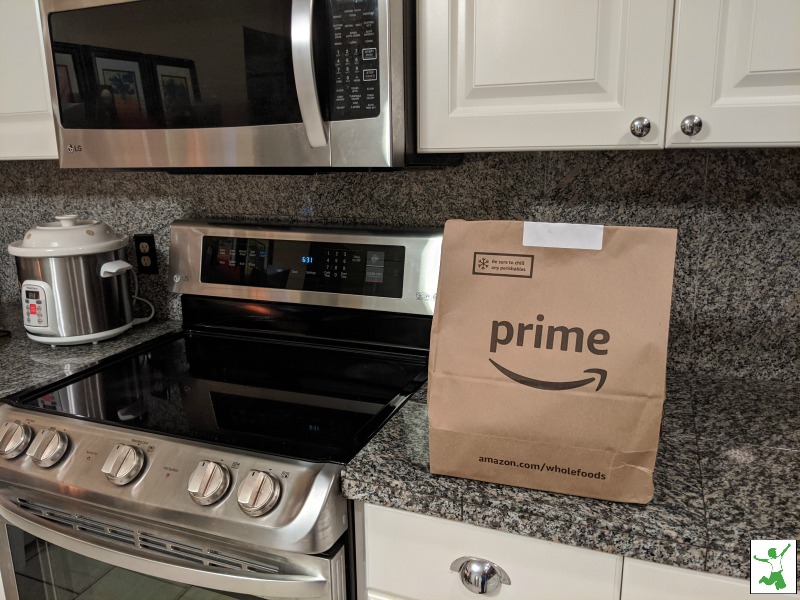 I prioritize spending the bulk of my food dollars at locally owned health food stores and markets. However, I do buy a few things at Whole Foods, which is only a couple of miles from my doorstep.
Hence, I guess it was inevitable that I would eventually try Prime Now. This is Amazon's grocery delivery service.
It is similar to InstaCart used by competitors such as Earth Fare, where someone does the in-store shopping for you and then a courier delivers your groceries.
Before I launch into my review of Prime Now, let me take a moment to tell you how it is different from Amazon's other delivery services.
Prime Now vs AmazonFresh
AmazonFresh is a subscription service delivers fresh groceries from Amazon fulfillment centers rather than Whole Foods stores like Prime Now.
AmazonFresh requires an additional monthly membership fee on top of Prime membership, but you have access to a wider variety of products. Besides groceries, personal care items and household supplies from all major national brands are available for delivery.
If you have a SNAP EBT card, you can get AmazonFresh without the monthly fee.
If you're looking strictly for grocery delivery and live near a Whole Foods store, Prime Now is the better deal.
Prime Pantry vs Prime Now
Prime Pantry is another grocery delivery service offered by Amazon to Prime members.
Unlike Prime Now and AmazonFresh, which include delivery of fresh items like produce and meat, Prime Pantry offers a range of shelf-stable foods, cleaning products, and even office supplies.
Like Prime Now, orders are shipped free if you spend $35+. For smaller orders, shipping is $5.99. Or, you can pay a small monthly subscription fee so that all of your orders qualify for free shipping.
My Experience with Prime Now
Since I live close to a Whole Foods store, it made the most sense to try Prime Now. Here are my thoughts on every aspect of the process including making the decision to order and whether I plan to use the service regularly (or ever again).
Cost
Delivery of Whole Foods' groceries is free for Prime members who order $35 or more. That said, delivery isn't really "free".
You have the option to tip the courier who delivers the groceries, which is, of course, a very good idea! These people work very hard.
The suggested gratuity when you submit your Prime Now order online is about 10% of the total, so consider whether this cost is worth it for you compared to the gas/time to run to the store yourself if it is closeby.
I live 2 miles as the crow flies from my Whole Foods and 4.5 miles via roads. Considering the wear/tear/cost of gas to go back and forth (58 cents per mile according to the IRS), a $5 tip for a $60 order meant that using Prime Now didn't cost anything additional to what I would have spent going to the store myself.
Ordering
When I first logged into Prime Now on my smartphone, I was, quite honestly, a bit freaked out. Half my shopping list was already presented as top suggestions for my order!
Then, I realized that since I'm a Prime member, Amazon already knows everything I order at Whole Foods. This data I freely share when I type in my Prime number at checkout to get the members-only discounts. So, suggesting my frequently purchased items in the app wasn't so shocking after all.
This made starting my order very easy, as I simply clicked on those items I needed to replenish. This took about 30 seconds. I also checked the "no substitutions" box should anything on my order not be available. For those of us who vet products carefully before buying, this is a very important option.
The remaining items I needed were easily located with the search bar.
I included a few more items that were highlighted as on special, making sure to order produce items and one bulk item. A little apprehensive about someone else selecting those items for me, I didn't feel comfortable at all ordering meat.
All in all, using the online Prime Now ordering system was very easy and intuitive.
Here's my full order. All the prices were very reasonable and in some cases, cheaper than they would have been in the store! The prices were also far cheaper than buying via Amazon.com with a Prime membership alone.
Delivery
I submitted my order on a Wednesday at 5:19 pm and chose the two-hour, free delivery window (7-9 pm) for the courier to drop it off.
The order was delivered just before 6:30 pm, more than a full half-hour early.
This wasn't a problem since I was at home. But, if I was away or stuck in traffic, having food sitting on my front doorstep could be a bit risky! Fresh food is quite enticing to neighborhood pets or wildlife in the area.
Mental note to self. I'm glad I didn't order any meat.
Another weird thing…the courier didn't ring the doorbell or even knock to let me know the order had arrived. I found the bags sitting on the front mat outside the door by accident!
Packaging
I was shocked by the amount of packaging used to deliver my dozen or so items. They could easily have all fit in one bag, but three paper bags were used.
Two of the bags contained a large foil lining to insulate the handful of refrigerated items and keep them cool. See the picture below.
This was probably the most off-putting part of the Prime Now experience for me. I make it a point to bring my own bags for grocery store shopping, and trading all this waste for a little convenience seemed extraordinarily selfish on my part.
I literally felt sick to my stomach seeing all the paper and foil required to deliver my small order!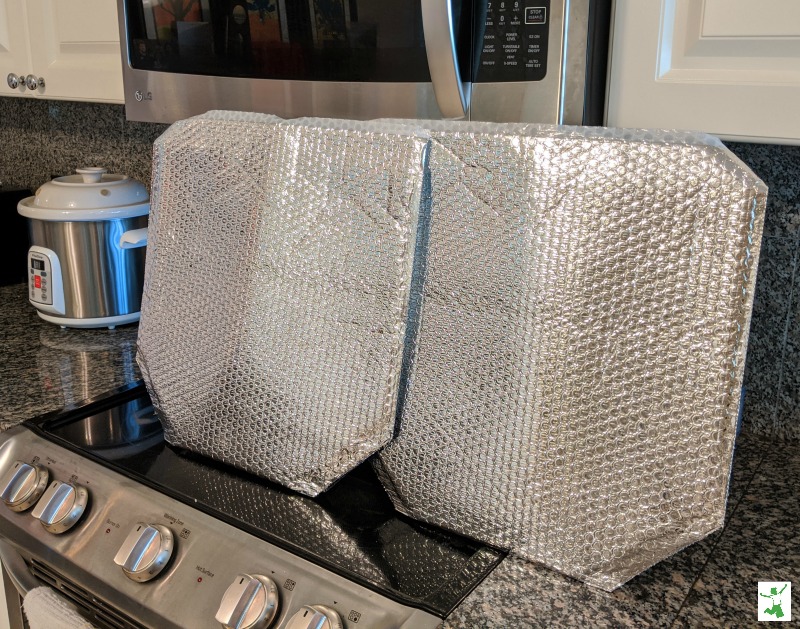 Would I Use Prime Now Regularly?
Using Prime Now was an extremely convenient experience, especially since it was raining pretty hard the evening I placed my order.
However, the wasteful packaging alone 100% ensures that I won't use the service regularly.
In my view, Amazon really needs to solve this pressing problem if they want it to truly take off with environmentally conscious customers.
I would consider Prime Now again in an emergency if no one in the family could make it to the store for whatever reason. This might mean that I use it once or twice a year max.
Have you used Prime Now, AmazonFresh or Prime Pantry? What were your thoughts and experiences? Do you use them regularly or only occasionally?