The release of Olio Nuovo is a highly anticipated event each year. This special "new" extra virgin olive oil is prized for its intensely robust flavor with the perfect balance of fruitiness. How to source authentically and sustainably to avoid less beneficial EVOO blends.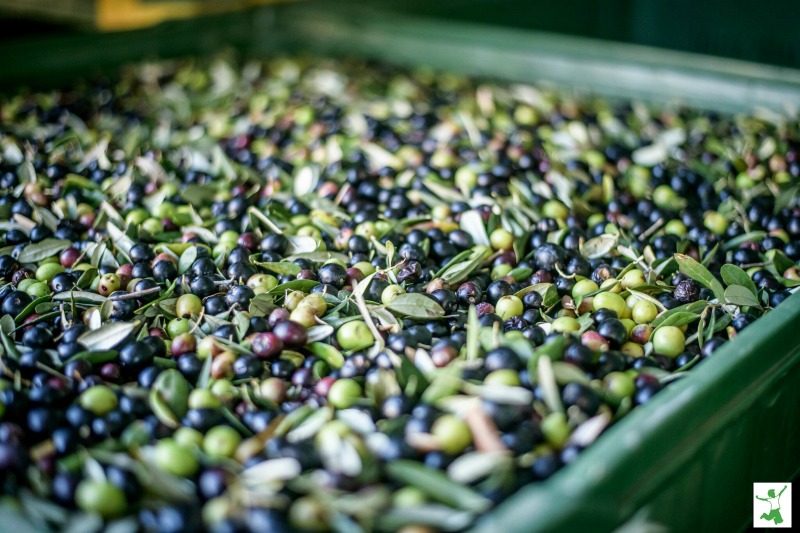 If you love extra virgin olive oil, I highly recommend a visit to an heirloom olive grove. In some areas of the world, these ancient orchards are home to magnificent trees dating back thousands of years to the days of the Roman Empire.
What is Olio Nuovo?
Olio Nuovo is Italian for "new oil". In a nutshell, it is the first extra virgin olive oil of the season at its robust, raw-some best.
Tasting this type of extra virgin olive oil for the first time, you will immediately know why! Olio Nuovo an intense flavor experience, ideally enjoyed immediately after emerging from the low-temperature centrifuge.
I had the privilege of experiencing authentic first harvest extra virgin olive oil a few years ago on a culinary tour with one of my children.
Since I can't be there every year for that memorable event, the next best thing is enjoying it from the bottle, ordered direct from a farm that is using the correct methods not just for the olive oil they produce, but also one that employs practices that are sustainable for people and planet.
Let's go into detail about what exactly that means…
Preservation of Ancient Olive Trees
Many people do not realize that modern-day olive oil processing can be a highly destructive business. In many cases, it involves the ripping out of ancient olive trees thousands of years old to replant younger, more closely spaced trees.
This approach favors a more profitable, mechanized harvest, but unfortunately, it also involves the extinction of unique varieties.
It is also unnecessary as these ancient olive trees produce just as abundantly as younger ones!
When you source your olive oil, it is important to seek out companies that do NOT use this approach.
I have seen firsthand how real early harvest EVOO comes exclusively from pressed heirloom olives cultivated by small scale farmers.
The efforts of this small group of passionate EVOO agriculturalists are critical to saving these unique and ancient varieties from extinction!
In my view, it is extremely important to support their efforts in any way possible. The best way is to patronize their products year after year.
Small Scale Family Operation
Another important aspect of thoughtfully sourcing your olive oil is to remove mega-corporate influences from the equation. It is this type of monopolistic market domination that is so destructive to people and the planet.
This means supporting small scale family operations whenever and wherever possible.
These types of family farms typically press and bottle at the same location. The result is the best olive oil possible:
Unfiltered oil with sediment naturally removed during decanting.
The temperature never exceeds 80 F/ 27 C during pressing.
Acidity is less than 4%
Olive oil with a delicate yet robust flavor, with the perfect balance of fruitiness.
Best Olio Nuovo
Autumn is the time of year to experience Olio Nuovo for yourself.
This olive oil is on special each November with extremely limited supply.
I can't wait for my bottles to arrive…this is my primary "olive oil order" for the year. Here's where to find it.
Have you ever tried Olio Nuovo olive oil before? What were your thoughts on the flavor compared with other types of EVOO?