Table of Contents

[Hide]

[Show]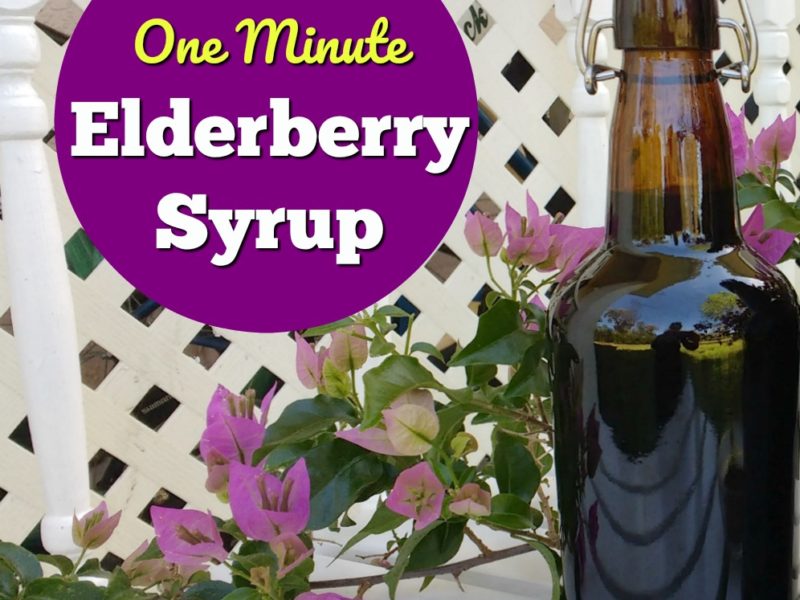 Traditional elderberry syrup is made by cooking the berries, cooling, straining, and then adding natural sweetener of choice. What if you don't have time to go through that whole regimen that takes an hour or two? Is it possible to whip up a batch more quickly?
Yes, it is. And, I would suggest trying this one-minute elderberry syrup recipe instead of settling for commercial elderberry syrups if you are schedule-challenged. Commercial syrups are quite expensive and contain undesirable additives and/or cheap sweeteners.
Bonus: Using the ultra-fast method for making elderberry syrup outlined below doesn't sacrifice anything in effectiveness compared with the more time-intensive approach.
You will not only save time but also a lot of money too! A bottle of the leading brand of elderberry syrup costs about $25 for only 5.4 ounces. Making your own in a minute or two with this recipe will give you three times as much syrup for a few dollars less per batch!
Making Elderberry Syrup from Elderberry Juice
This new option for making elderberry syrup is simple…just use commercially pressed elderberry juice instead of cooking dried berries.
There are a couple of brands of 100% elderberry juice I've examined that look acceptable.
This brand is excellent and most cost-effective per dose.
This brand is acceptable as well, but slightly more expensive.
Read the label carefully and avoid brands that dilute the elderberry juice with water or blend in cheaper juices like apple and grape.
Bypass brands that add a cheap sweetener like agave.
One final word of warning. Don't use the raw elderberry juice you squeeze yourself as it contains some potent and quite dangerous toxins.
If you have a source of fresh elderberries (that's awesome!), bring the juice to a boil, cook for 2-3 minutes, and then cool to room temperature before making into syrup. Going this route is a bit quicker than using dried berries, but longer than using the method in the recipe below.
Which Sweetener is Best?
Once you have your source for pure elderberry juice, simply blend in sweetener to taste and you will have a batch of syrup in a matter of minutes instead of the hour or more required to cook/cool/strain the berries.
The best sweetener to use for elderberry syrup is raw honey.
It works as a synergistic natural antibiotic to boost effectiveness.
For children under the age of one, you can use another natural sweetener like dark maple syrup or date syrup.
If you've been buying commercial elderberry syrup because you are pressed for time, try this fast and easy method instead! Note that it is a bit more expensive than buying the dried berries and cooking them. However, it is a huge time saver and far less per dose compared to commercial syrup offerings.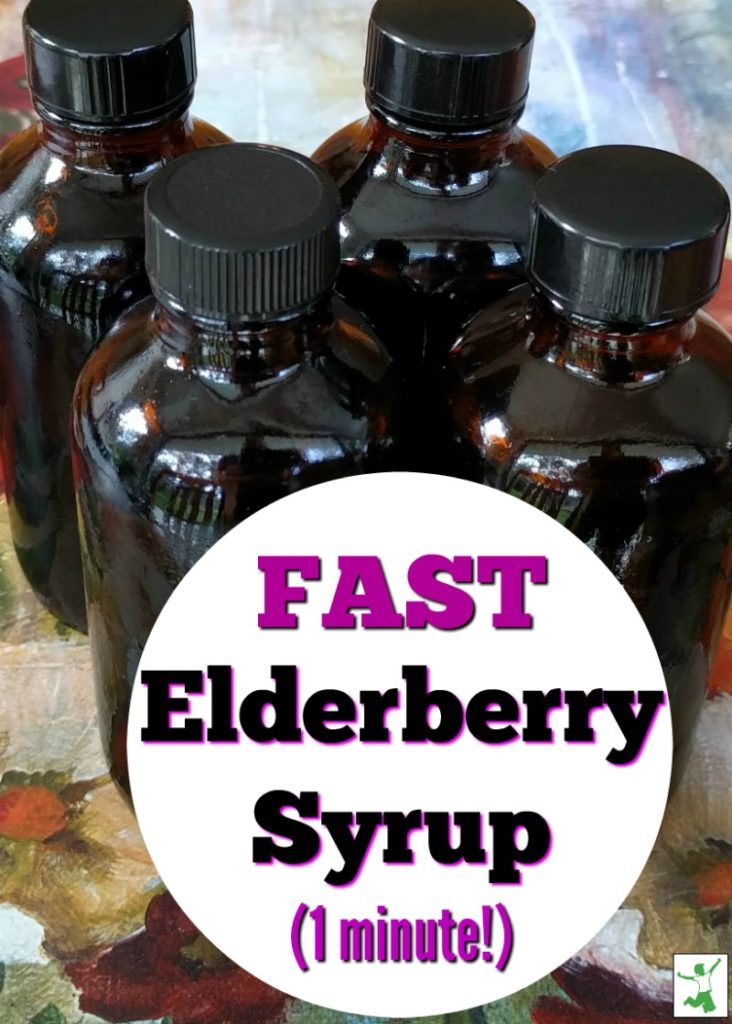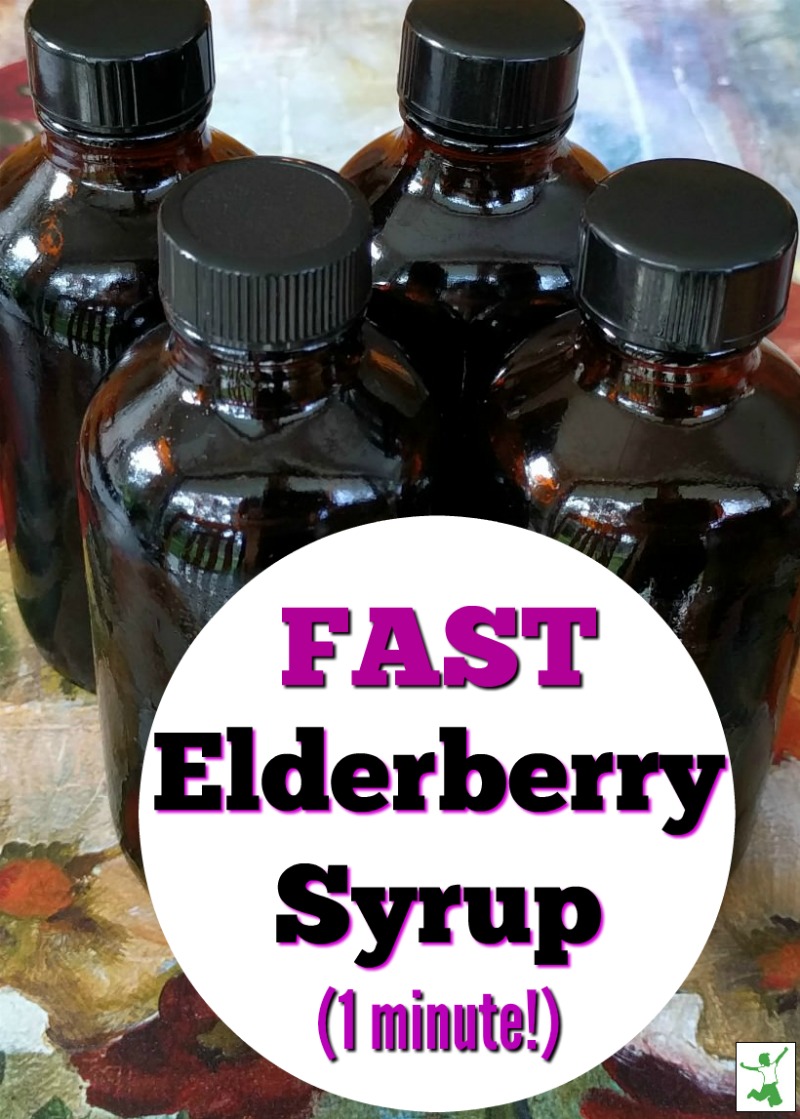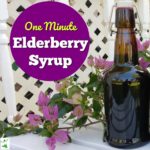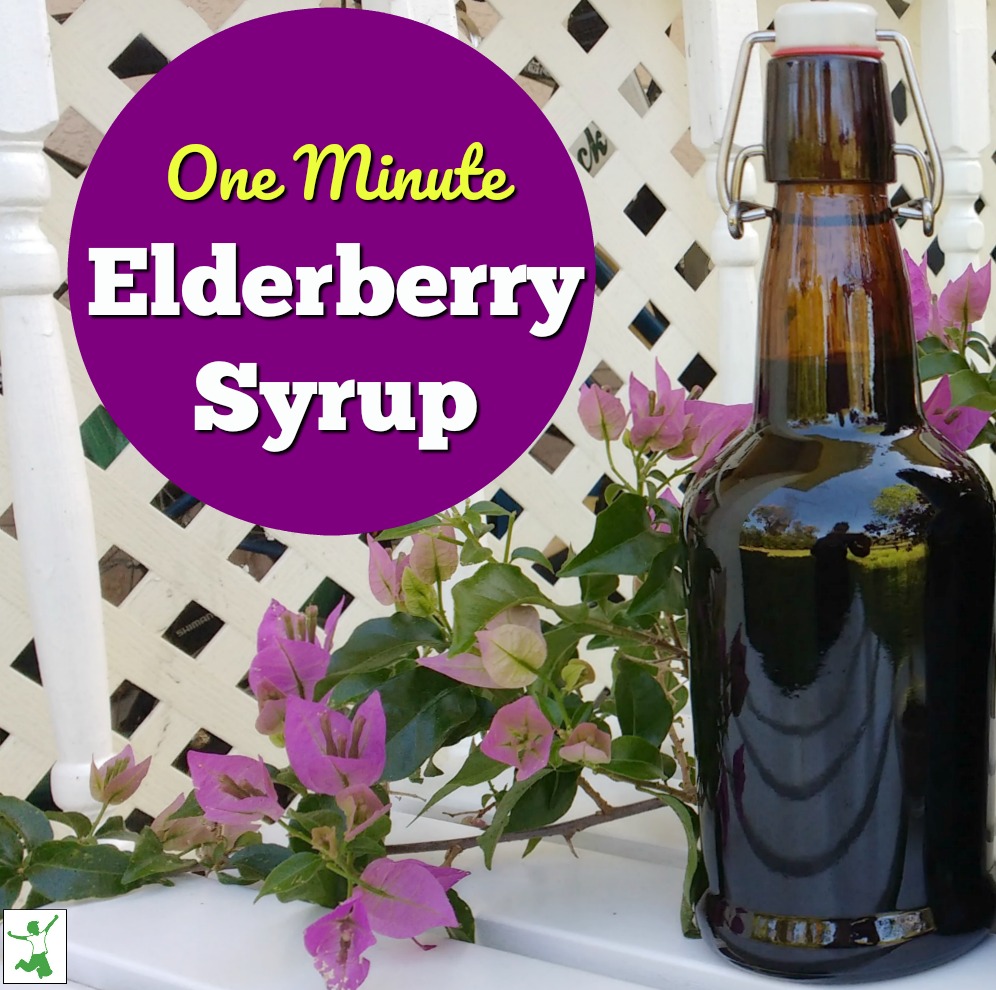 Ultra-Fast DIY Elderberry Syrup (one minute!)
The fastest method for making a batch of elderberry syrup, which only takes a minute or two compared with the hour or more required when making traditionally from dried or fresh elderberries.
Instructions
Mix elderberry juice and raw honey until thoroughly blended.
Recipe Notes
Substitute maple syrup or date syrup for the honey for children under age 1.
If using raw honey, the syrup will be good to use for several months refrigerated. The raw honey acts as a natural preservative.
If using maple or date syrup, the syrup will be good to use for about 1 month refrigerated.
Freeze what you will not use in that time. 
Nutrition Facts
Ultra-Fast DIY Elderberry Syrup (one minute!)
Amount Per Serving (1 teaspoon)
Calories 14
% Daily Value*
Carbohydrates 3.5g1%
Vitamin C 4mg5%
* Percent Daily Values are based on a 2000 calorie diet.