Have you ever asked yourself whether New Year's resolutions are actually "healthy"?
It seems to me that if the stress from a resolution is too great, it can (ironically) derail the very action steps necessary to achieve it!
In other words, keeping things as easy as possible is critical.
If this makes sense to you, let me suggest a vital tool that can help in 2019 … The 2018 Ultimate Healthy Living Bundle.
NOTE: This offer has now ended and is closed.
Wondering how a collection of health and wellness resources for under $30 could possibly help?
Let me give you a few examples ….
Want to start exercising? Change the way you work out with the MerryBody 4-Week Yoga and Pilates Home Fitness Program (value $75).
Want to do the Keto Diet without doubling your food budget? Learn how with my latest ebook – Ketonomics: Healthy Low-Carb Recipes that are Budget-Friendly by (me!) Sarah Pope ($9.99)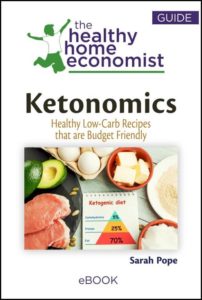 Ready to shed a few pounds? Discover the tools to losing weight – without deprivation and diets – with Secrets to Controlling Your Weight, Cravings and Mood by Maria Emmerich (value $9.99)
Learn homeopathy with Homeopathy for Mommies: Family Guide for the Acute Use of Homeopathy (value $14.99).
Interested in detoxing your home? Find recipes to make your own natural products in Holistic Living for Penny Pinchers by Meg Richardson (value $9.99).
That's five resolutions you can knock out in one $29.97 package!
In addition to the five resources I just mentioned, you also get 57 other eBooks, 20 eCourses, 12 printables & workbooks, and 2 membership sites on topics like real food and nutrition, gardening, natural remedies, non-toxic home and beauty, raising healthy kids and much more.
A new year is a chance to invest in an even better you 🙂
This bundle is the perfect way to find new inspiration, brain food, resources, and tools to help you work towards those changes, in one super affordable package, so don't miss your chance to get it, ok?

Check out all the bonuses and wellness resources in the 2018 Ultimate Healthy Living Bundle here.
Warmest Wishes for a Healthy and Happy New Year!