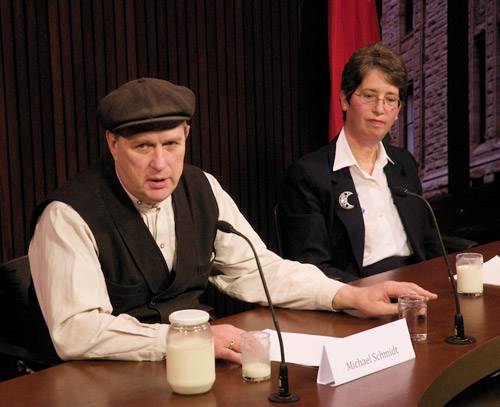 Michael Schmidt, Canadian farmer, longtime raw milk activist, and Board member of the Weston A. Price Foundation, will be sentenced by Ontario Judge Peter Tetley on November 25, 2011 at 9:30 am per a recent appellate ruling which overturned a previous court decision that he did indeed have a legal right to provide cowshare owners with raw milk.
This September 2011 ruling convicted Michael on 15 of 19 charges and shockingly reversed the lower court's decision to acquit him.
Michael has been courageously fighting for the fundamental right to provide raw milk to consumers in his local area since 1994 when his farm was first raided by government officials.  Michael recently ended a 37 day hunger strike when an overwhelming outpouring of public support persuaded Ontario Premier Dalton McGuinty to meet with him and discuss furthering the issue of food choice in Canada.

Michael is convinced that Raw Milk Moms played a pivotal role in ending his hunger strike;  it's time to follow up this success by writing Judge Tetley to plead for leniency in Michael's sentencing next week.
Judge Tetley is no doubt contemplating the case at this very moment as there is little more than a week to go before he announces his decision.
There is no time to delay.
Here is how to contact Judge Tetley:
Handwritten Letters
Judge Peter Tetley
Newmarket Courthouse, 50 Eagle St. W., Newmarket Ontario L3Y 6B1
Email Letters
[email protected]  (Judge Peter Tetley's secretary)
Fax Letters
905-853-4832
*Please make sure your letters are as respectful and thoughtful as possible.  The idea is to emphasize that there are no victims in this case.  No one was sickened or hurt by any of Michael's actions to support the cowshare owners of his farm. 
Thank you for taking the time to do this today.  Sending your letter by all three modes: snail mail, email, and fax would be even better.
Sarah, The Healthy Home Economist