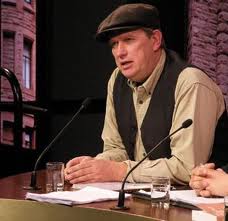 Michael Schmidt, raw milk farmer and activist from Ontario Canada has ended his 37 day hunger strike after meeting with Ontario Premier Dalton McGuinty.
The following is the text of Michael's statement:
"This hunger strike was about starting a dialogue with the leader of this province. I have been on this human journey for 17 years looking for constructive dialogue, and I have been dragged through the courts for a crime that has no victims. My aim was simple: to take this to the top and to begin a conversation with our leader, one-on-one. To meet, as equal human beings, not as Premier and Farmer. It was because of this that I undertook my hunger strike. And this morning, I met with Premier McGuinty, in his office, and we have begun our dialogue, and because of this, I am ending my hunger strike today.
I have always had my hand outstretched in an offer for dialogue and feel that today, for the first time in 17 years, this hand has been taken and dialogue at the highest level has finally begun. I truly hope that the government will refrain from any further attacks on farmers until this dialogue has had a chance to take its proper course. We will be working closely with MPPs over the coming weeks to table a private member's bill."
Thanks and gratitude to all who heeded the call from this blog and many others to inundate Premier McGuinty's office with emails, phone calls, faxes, and Tweets.
It made a difference and hopefully this meeting will prove fruitful to all Canadian citizens in moving the dialogue of Food Freedom forward to benefit all!
Sarah, The Healthy Home Economist