Table of Contents

[Hide]

[Show]
The Impossible Burger ingredient with a sketchy safety profile that is the product of a double GMO manufacturing process unbeknownst to unwitting consumers.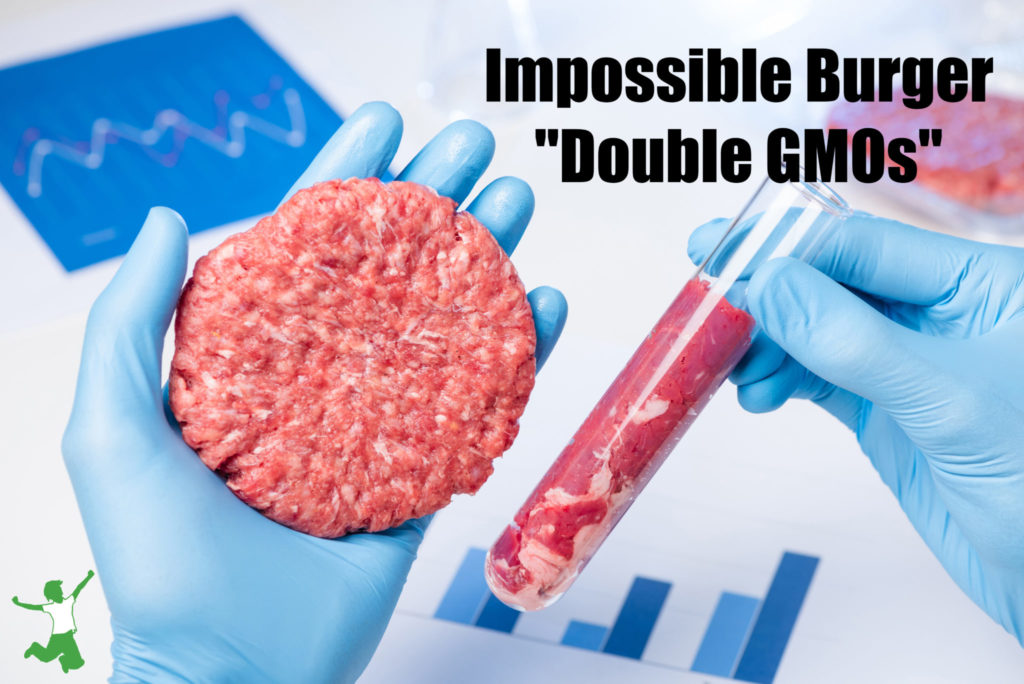 Impossible Foods, a leading manufacturer of plant-based meat, markets its "Impossible Burger" as a product "for people who love meat".
The slick website goes on further to state that:
Anything you make with ground beef, you can make with Impossible Burger — tacos, sliders, chili, you name it. Plus, it has as much protein as 80/20 ground beef from cows, but is way better for the planet".
Ah yes … just slide in the "better for the planet" claim, and a company can sneak pretty much anything past the consumer, right?
GMO Leghemoglobin
The most controversial ingredient in the Impossible Burger is a blood-like substance that oozes out of the uncooked patties. This completes the fake meat illusion for consumers duped into eating it.
This chemical is leghemoglobin from GMO soy. The abbreviation for this genetically engineered protein is SLH.
It is a red-colored substance found in the root nodules of legumes like soybeans.
While currently labeled in the US and Canada, SLH will be mysteriously missing from the ingredients list when the Impossible Burger debuts in Australia and New Zealand. (1, 2)
Double GMO Ingredient
There are legitimate concerns over the safety of soy leghemoglobin (GMO heme).
First, the company uses a misleading word salad to describe its creation.
A simplified explanation is that the food scientists manufacture the GMO soy leghemoglobin from GMO yeast.
In essence, it's a GMO created from a GMO.
Here's how it happens.
Scientists genetically engineer leghemoglobin by inserting the DNA from GMO soy leghemoglobin into yeast cells.
By definition, this DNA insertion creates GMO yeast.
After the frankenyeast cells grow for the prescribed length of time through fermentation, the food scientists isolate the GMO heme from the GMO yeast and add it to the plant burgers.
Impossible Foods defends their double GMO manufacturing process by saying that it eliminates the need to harvest actual GMO soy plants to get heme from their root nodules, making the method more "sustainable".
However, we all know that this is simply semantics to describe a cheaper manufacturing process that reduces costs for Impossible Foods while introducing more health risk for consumers.
Animal Studies of SLH
A report written for GMOScience by GMWatch editor Claire Robinson and Dr. Michael Antoniou, FoE and GeneEthics found that rats fed SLH showed signs of inflammation, kidney disease, and possible signs of anemia.
The rats also exhibited unexplained changes in weight gain.
These concerning effects occurred despite the short (28-day) feeding study that was commissioned by Impossible Foods itself.
What's more, the authors of the study were employees of the company, a clear conflict of interest.
The company dismissed these findings as statistically insignificant, "non-adverse", or as having "no toxicological relevance". (3, 4)
What would animal studies show if an objective group actually conducted the testing?
It seems that we are all going to find out the answer to this question, but not in the way we would like.
The duped plant-based eating public is now the unwitting test group in this disturbing double GMO experiment.
(1) Safety concerns raised over Impossible Burger GMO fake meat ingredient
(2) Soy leghemoglobin in meat analogue
(3) What The FDA's Decision About Soy Leghemoglobin Means For Impossible Burger
(4) Rat Feeding Study Suggests the Impossible Burger May Not Be Safe to Eat