Table of Contents

[Hide]

[Show]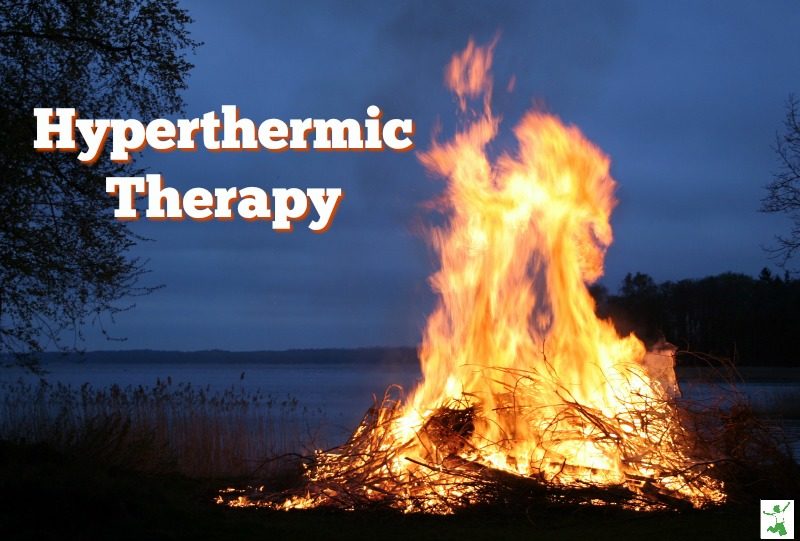 A well-respected oncologist in my community once told me that cancer patients typically have difficulty spiking a fever. This is one reason exposure to even a mild cold can be dangerous for them.
The heat generated by fever, self-generated hyperthermic therapy, is a potent weapon for a healthy immune system.
This fact is recognized by the American Cancer Society, which proclaims that "hyperthermia is a promising way to improve cancer treatment…" (1)
Fortunately, increasing body temperature can be facilitated externally when the physiology is too compromised for it to occur naturally.
Using Heat to Heal
What medicines do not heal, the lance will; what the lance does not heal, fire will. -Hippocrates
The easiest way to elevate body temperature from an external heat source to reproduce the beneficial effects of fever is via sauna therapy.
The "mild fever" induced in this manner is the safest and most effective with near-infrared saunas.
Called hyperthermia or hyperthermic therapy, elevated body temperature induced in this manner offers numerous, research-supported immune system benefits including:
Deep heat penetration of up to 9 inches (23 cm) into the body according to NASA. Scientific research suggests that this helps relieve liver and kidney congestion by rapidly shunting blood to the skin, which speeds detoxification. (2)
Increased blood flow throughout the body, which enhances nutrition and oxygenation to healthy tissue.
The sweating effect helps excrete toxins including cadmium, lead, zinc, nickel, sodium, sulfuric acid, and mercury. (3)
Waon Therapy, developed in Japan, uses infrared energy to treat chronic heart failure and other disorders. (4)
Under the influence of elevated body temperature, tumor cells form "heat shock proteins". These proteins are easily detected by the immune system as markers for unhealthy cells, which triggers a positive immune response to attack the tumors. (5)
Experiencing Hyperthermic Therapy Benefits
In this era where global pollution is at levels never before experienced by humanity, the protective and therapeutic benefits of sauna-induced hyperthermic therapy is an important part of a comprehensive wellness strategy.
But, not all saunas!
High-temperature dry saunas are simply too hot for many people to tolerate, especially those who are already ill.
Steam heat saunas can induce feelings of suffocation and discomfort from the heavy air. In addition, exposure to flora-destroying chlorine from unfiltered water droplets in the steam is very high.
Far infrared sauna models like Joovv introduce LED light flicker stress and potentially an EMF risk. This technology typically emits frequencies similar to cell phones in the 4-15 micron range. The safe limit for sauna EMF dose has been 3 milliGauss (mG). Some agencies are recommending a safe limit of 1 mG. Many far-infrared emitters exceed this level.
This leaves near-infrared saunas, which research suggests are the safest and most effective choice.
A really good time to introduce regular sauna therapy into your life is during the early Fall months to provide support to the immune system before cold/flu season arrives.
If you'd like to experience a near-infrared sauna risk-free, try Saunaspace…it's the best and safest model on the market according to my exhaustive research.
We've used the Luminati model in our home for several years and love it!
Use coupon code HEALTHYHOME and get 5% off on any model you choose.