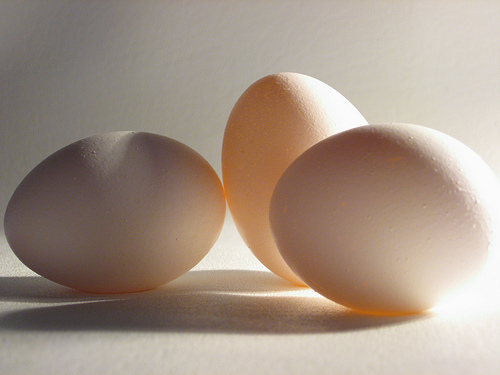 I coordinate a local food club in my community, and today at pickup, one of our local farmers delivered the largest chicken eggs I have ever seen!    They are absolutely beautiful!    What's more, the eggs are soy free and very reasonably priced!   I'm glad I bought 5 dozen, but I have a feeling they won't last the 2 weeks until the next pickup.
When I got home, there was no doubt that lunch would consist of all things "egg".    I made scrambled eggs first and was delighted to see that the yolks were nearly as large as duck egg yolks!   My egg pan was completely full scrambling only 4 of these eggs.   Phenomenal.
My next task was to quickly cook up some boiled eggs for snacks.    I got to thinking that some of you out there may be struggling with peeling them, just like I did for the longest time.    The one minute youtube clip below demonstrates how to peel a boiled egg without really peeling it.     I hope you find this sensational tip for easily and quickly peeling boiled eggs as helpful as I have.
Sarah, The Healthy Home Economist
More Information
The Best Egg Substitute (plus Video How-to)
Organic Store Eggs Just Don't Stack Up
What Oxidizes the Cholesterol in Eggs?
Think You Have Fresh Eggs? Here's How to Tell