A simple recipe for safe, green dishwasher powder that effectively cleans even the dirtiest dishes with no residue or streaking.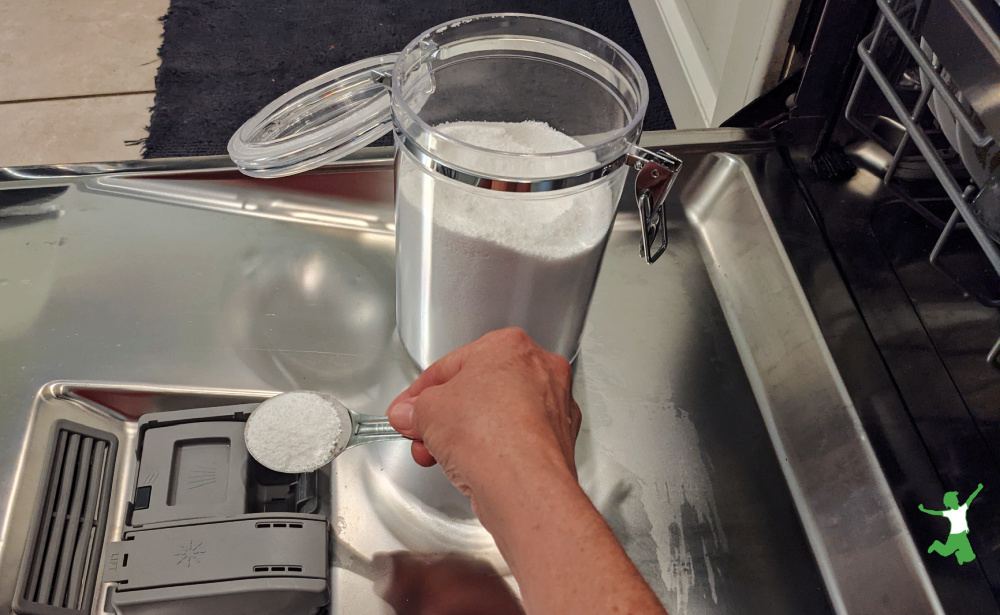 One product you absolutely should get rid of in your home is automatic dishwashing powder or tablets.
This stuff is one of the most toxic chemical concoctions people use in their homes, using it day after day, year after year…usually without giving it a second thought.
Is this stuff safe to use on the very dishes and utensils we use to eat?
What good is buying everything organic, local, and nutrient-dense if the kitchenware you serve it on has dangerous residue?
While companies that make these products assure us that the chemicals rinse clean and clear, I don't believe their corporate claims (and never have).
Even the ingredients in "green" dishwashing powders I've examined are toxic …. although much less so than supermarket brands.
Some of them contain glycerin, which is sticky and increases the chances of residue on your dishes. It does not rinse off easily!
It is important to remember that the marketing term "eco-friendly" does not necessarily mean "human-friendly".
I have yet to find a brand of dishwasher powder that is 100% safe that I feel comfortable using.
If you think you have found one, please share it along with a list of ingredients in the comments!
However, it is so easy and inexpensive to make your own, I don't know why more people don't do it.
Another tip…I do not recommend 100% trust in the ingredient safety database from Environmental Working Group.
While it is a good source of information, it is sometimes wrong too.
A couple of the ingredients I've researched using it have come up "green", however, when I searched them further they were far from safe!
I'm not saying don't use it, just avoid using it as the only or final authority on a particular chemical you might be investigating.
Give it a try making your own dishwashing powder! The formula below works well even for the very hard well water we have in our home. It is also safe for septic tanks.
Does it work as well as commercial brands?
No, it doesn't. But, it works well enough in my experience.
Just be sure to scrape the dishes before starting a load.
This is a little extra work I would far prefer doing compared to using a product that will remove everything under the sun but potentially leave toxins on our plates, cups, and utensils!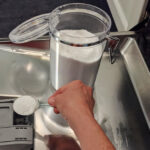 Homemade Dishwashing Powder
Instructions
Mix washing soda and citric acid in a small container with a tight fitting lid.

Add 1 tablespoon of the dry mixture per dishwasher load to the main detergent compartment. Use 2 tablespoons if the load is heavy or especially dirty.

Fill the dishwasher rinse compartment with the white vinegar. This is optional, but recommended if you have hard water.