Table of Contents

[Hide]

[Show]
Analysis of the GreenPan nonstick cookware brand which uses the patented Thermolon coating and whether this material is safe as advertised.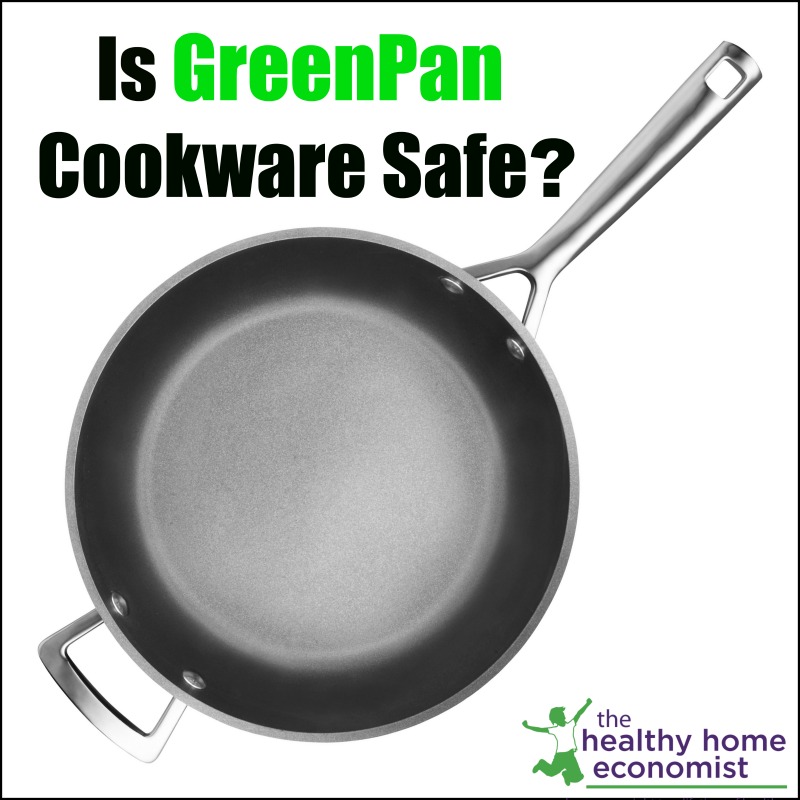 Safe cookware is a top priority these days with people cooking at home more than they have in decades. With Teflon an obvious no-go and stainless steel and cast iron presenting their own set of issues under certain conditions, GreenPan has emerged as a brand of nonstick cookware that many are considering as an alternative.
But is GreenPan cookware safe as advertised or is it just another case of greenwashing the consumer with half-truths?
GreenPan Nonstick Coating

First, let's take a look at the GreenPan brand and how it is marketed.
GreenPan makes several types of nonstick cookware products coated with its patented Thermolon™ ceramic non-stick coating.
This coating is made in South Korea. The cookware is assembled in China in a factory owned by GreenPan itself. (1)
GreenPan cookware is widely available and sold both online and at brick-and-mortar retailers such as Target, Williams Sonoma, Bed Bath & Beyond among others. They are budget-friendly and affordable at only about $20-30 per unit on average.
The packaging of GreenPan products advertises its patented nonstick coating to be completely toxin-free. The company refers to Thermolon as "healthy ceramic non-stick" containing "No PFOA, PFAS, lead or cadmium".
Hence, for a consumer doing a cursory inspection of the product, GreenPan seems safe. For those of us who dig a bit deeper, however, a different picture emerges.
Is Thermolon Safe?
When I tried to find out the materials used to make the Thermolon non-stick coating, I found the information to be a bit evasive. Here's what the company responded when asked for the substances and processes used:
The Thermolon coating is made by a Sol-Gel process that results in forming a coating layer on the surface of the pan. This layer comprises mainly Silicon Dioxide (SiO2), which is the same composition as glass (or sand from which glass is made). There are some additional materials such as pigments that give the color. All the materials in Thermolon are 100% safe for use in food contact coatings.
Sol-Gel Process
So what in the world is a "Sol-Gel" process exactly? Responding to a consumer with an industry buzz-word that isn't commonly understood is a red flag in my experience.
Turns out, "Sol-Gel" is a highly industrial process. Here's the definition:
The sol–gel process is a wet chemical technique also known as chemical solution deposition, and involves several steps, in the following chronological order: hydrolysis and polycondensation, gelation, aging, drying, densification, and crystallization.

The chemistry of the sol-gel process is based on hydrolysis and polycondensation reactions. Metal alcoxides [M(OR)3] are versatile molecular used to obtain oxides, on account of their ability to form homogeneous solution in large variety of solvents and in the presence of other alcoxides or metallic derivatives and also for their reactivity toward nucleophilic reagents such as water. (2)
According to this description of Sol-Gel processing, there appears to be metal and solvents involved.
Thus, the Thermolon non-stick coating may very well have heavy metals or toxic residues present that might get into the food if it is chipped or scratched.
As it turns out, this is exactly what other consumers have discovered as well.
Class-Action Lawsuit Against GreenPan
A little more digging turns up that GreenPan is, in fact, the target of a class-action lawsuit for false advertising. The lawsuit contends that the Thermolon coating is not 100% toxin-free at all.
Dangerous substances present in Thermolon coating according to the lawsuit include: (3)
Silane, a colorless, flammable, and poisonous gas, with a strong repulsive odor. It is easily ignited in air, reacts with oxidizing agents, is very toxic by inhalation, and is a strong irritant to skin, eyes, and mucous membranes.
Aluminum oxide has been given a hazard rating of 2 out of 4 by the New Jersey Department of Health, and which noted on its Hazardous Substance Fact Sheet that repeated exposure can lead to lung damage.
Tetraethoxysilane causes serious eye irritation, may be harmful if swallowed, may cause respiratory irritation, and may cause skin irritation.
Methyltrimethoxysilane can cause specific target organ toxicity, in addition to serious eye irritation, respiratory irritation, and skin irritation.
Potassium titanate is suspected of causing cancer and is also harmful if inhaled and may cause respiratory irritation.
Summary
In conclusion, it appears that GreenPan's Thermolon non-stick coating is not toxin-free as advertised.
What safe non-stick cookware might be worth considering instead?
Quite honestly, it seems that all the non-stick types of cookware out there have their own issues if you do some digging. Enameled cast iron is one of my favorites, but recently I've seen some test results that that type of enamel can be high in lead or cadmium in some cases. (4)
If you choose to use enameled cast iron, it seems to be wise to check for testing results from the manufacturer before buying.
What we use in our home are high-quality stainless steel pots and pans for everything except acidic foods. For those dishes, we use stoneware or clay tested for purity.
What cookware do you use in your home and how have you determined it to be safe?
References
(1) GreenPan Nonstick Cookware
(2) Sol-Gel Process
(3) GreenPan Class Action Lawsuit
(4) Is Enameled Cookware Safe?