Table of Contents

[Hide]

[Show]
How to economically make homemade hand sanitizer and disinfectant wipes according to a Chemistry PhD to save money or in case stores run low on supplies during an epidemic.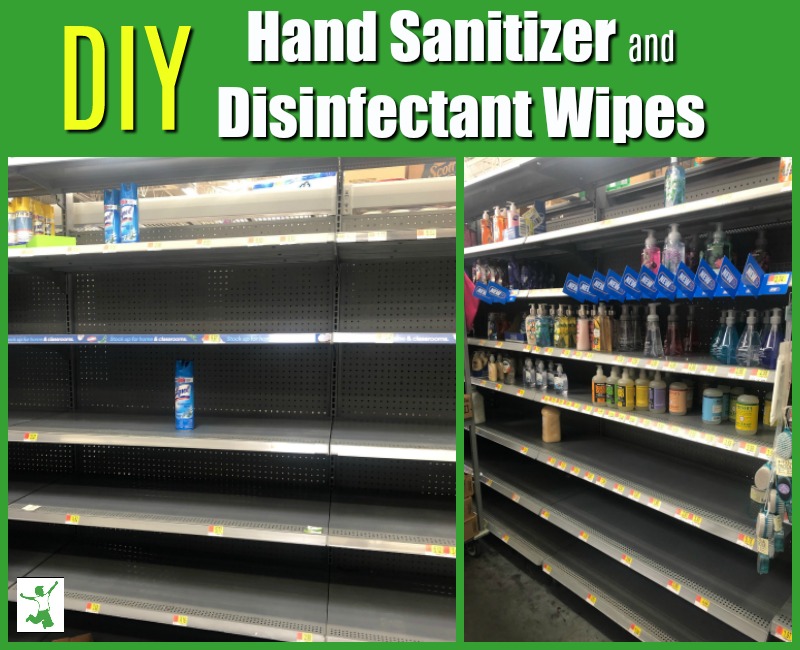 The governor of my state announced the first two cases of coronavirus yesterday, and one of them happens to be in my community. The news alarmed a lot of people because, by dinnertime, supermarket shelves were nearly stripped bare of disinfectant, disinfecting wipes, hand sanitizer, and other related products!
I imagine that a similar scenario may be coming to a Wal-mart, Target or supermarket near you in the near future if it hasn't already.
If the run on disinfecting products causes you to run short, no worries!
You can easily whip these products up yourself if you plan to be wiping down surfaces, doorknobs, and bathrooms more often than usual.
Going DIY will also cost you a lot less per use than the pre-made stuff at the store.
According to chemistry expert, Anne Marie Helmenstine, Ph.D., the active ingredient in homemade hand sanitizer should be 99.9% alcohol when mixed with aloe vera gel. (1)
Avoid substituting lower strength alcohol, hydrogen peroxide or witch hazel (which is fine for DIY baby wipes). The resulting mixture won't produce a rapid enough anti-microbial effect if diluted with aloe vera gel. Lower strength alcohol should be used alone.
In other words, the total alcohol content needs to comprise at least 60% of the sanitizing mixture to be considered an effective disinfectant. (2, 3)
One more tip. If you choose to make your homemade disinfectant wipes with reusable materials such as bamboo paper towels, be sure to launder in hot water!
Anti-Microbial Essential Oils
If you choose to add the optional essential oils to the recipe below, I would suggest using ones that have anti-microbial properties of their own such as clove, thyme or tea tree. Use only 2 drops per batch with these stronger oils to avoid any risk of burning the skin.
If you choose essential oils such as vanilla or lavender purely for fragrance purposes, use 8-10 drops per batch.
Homemade Disinfecting Wipes and Hand Sanitizer
Make your own disinfecting wipes and hand sanitizer for pennies. Made with nontoxic ingredients with reusable paper towels option for safe, convenient sustainability.
Instructions
Mix the alcohol, aloe vera gel, and optional essential oil together in a glass jar to make a gentle but highly effective disinfectant. Pour into a cleaned, recycled hand sanitizer bottle. To make wipes, continue with additional steps below.

Cut each paper towel in the entire roll into four squares.

Make two stacks of the cut paper towels in a large glass bowl and pour the alcohol mixture evenly over them. Let stand until the liquid is fully absorbed.

If you find you need more liquid depending on the thickness of the paper towels you are using, mix up more alcohol/aloe vera mixture at a ratio of 2:1

Place the wipes in a large ziplock bag for convenient use at home or when traveling.

If using bamboo paper towels in order to re-use, store used wipes in a separate double seal ziplock bag for easy laundering as needed.
Recipe Notes
Make three batches of disinfectant wipes so that you have plenty of time to launder before you reach the end of the third bag.
In a pinch you can use ethanol or even 190 proof vodka to make your hand sanitizer or wipes.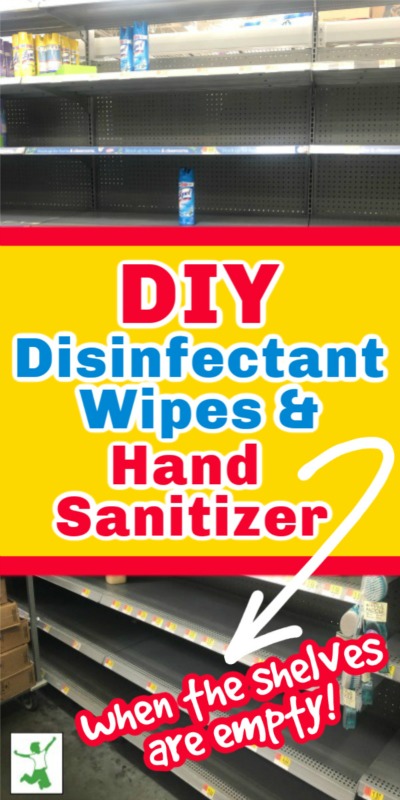 References
(1, 2) Helmenstine, Anne Marie, Ph.D. "How to Make Homemade Hand Sanitizer." ThoughtCo, Mar. 2, 2020, thoughtco.com/make-your-own-homemade-hand-sanitizer-606145.
(3) CDC: Guidelines for Disinfection and Sterilization in a Healthcare Facilities