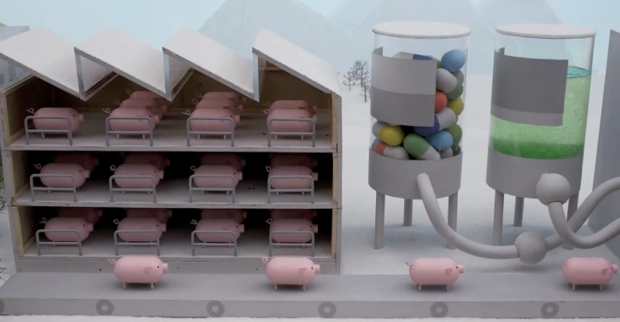 I'm a fan of the band Coldplay. If you are familiar with this band, you may remember the popular song The Scientist from a couple of years ago.
The lyrics of this song are nostalgic in nature – about a person wanting to go back to the start of a particular situation so he can relive something over again and "get it right".
Now, the restaurant chain Chipotle has sponsored a remake of this sentimental song featuring Willie Nelson.  The music video is awesome, touching on the theme of needing to go back to the start with regard to the horribly destructive, "down the rabbit hole" Concentrated Animal Feeding Operations (CAFOs) in order to make things right with animals, man, and the environment.

Chipotle's motto is "Food with Integrity".  The recent decision to replace GMO soy oil with rice bran oil indicates they mean business. While I've never eaten at a Chipotle to tell you whether this motto is actually incorporated into the realities of running a restaurant chain, I can say that I seem to remember that their Virginia restaurants buy from Joel Salatin's Polyface Farm, known to be an example to the world of sustainable, biodynamic, beyond organic farming.
I saw Joel speak at a seminar here in Florida a few years back and I am almost certain he mentioned that Chipotle was one of the local businesses that his farm served.
Whether or not this is still true, I don't know.  I did call Polyface to confirm, but didn't hear back yet.  I know those folks are super busy this time of year.
Music to Change The Way the World Thinks About Food
So it seems Chipotle is trying to support local sustainable farms.  Its website says as much and with their sponsorship of this new music video, they are putting their money where their mouth is.
Music has a strange and wonderful way of communicating what plain words cannot.
The scary truth is that 330 farmers are leaving their homes EACH WEEK in America.  This trend must be reversed with more small farms being created than being lost if we are ever to send the CAFOs the way of the dinosaur.
My hope is that this music video will help to bring the message of the need for more sustainable farms as well as the need for consumers and other businesses to support them so that no more small farms are lost.
Listen, enjoy and pass it on!
Sarah, The Healthy Home Economist
Source:  Willie Nelson Covers Coldplay, Assists Chipotle's Quest to End Factory Farms