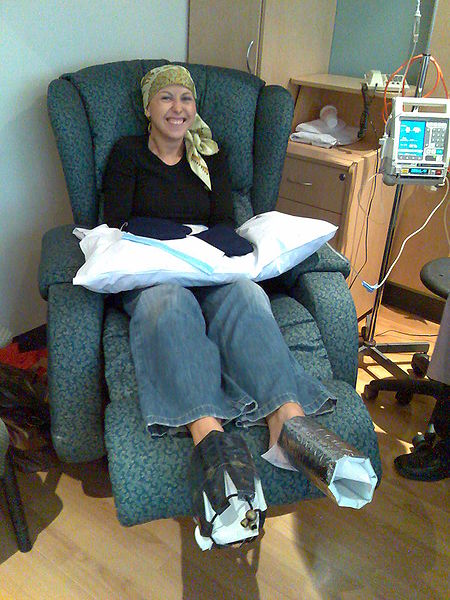 Scientists from the Seattle based Fred Hutchinson Cancer Research Center have stumbled upon a very inconvenient truth.
Chemotherapy is so damaging to the healthy cells surrounding a tumor that it changes their DNA, causing fibroblasts, those cells involved in wound healing and maintaining connective tissue, to produce a molecule called WNT16B that actually encourages prostate tumors to grow and invade neighboring cells.
The researchers also confirmed these findings for breast and ovarian cancer tumors.
The unsettling findings reported by the journal Nature Medicine in August 2012, helps explain why cancer patients sometimes derive little to no benefit from chemo treatments, essentially enduring the worse than death side effects for naught.
Peter Nelson, the study co-author said, "The increase in WNT16B was completely unexpected".
It also sheds light on why tumors might shrink from an initial round of chemo only to regrow later becoming resistant to further rounds of the devastating treatment.  Peter Nelson confirms the eventual resistance tumors develop to chemo adding:
"WNT16B, when secreted, would interact with nearby tumour cells and cause them to grow, invade, and importantly, resist subsequent therapy".
Professor Fran Balkwill, a UK based expert on the tumor microenvironment commented that these findings are in line with other research which has demonstrated that "cancer treatments don't just affect cancer cells, but can also target cells in and around tumors".
Researchers seem unfazed by these disquieting results that, though unexpected, did not seem to give them any pause whatsoever in questioning chemo as a valid tumor treatment for the long term.
Instead, they chose to stick their heads further into the sand suggesting that drugs to inhibit the production of WNT16B were in order for "new and improved" chemo treatments.
If one drug doesn't work, let's just add another, then another, then another ….
Apparently, "chemo brain" affects cancer researchers too.
Sarah, The Healthy Home Economist