Table of Contents

[Hide]

[Show]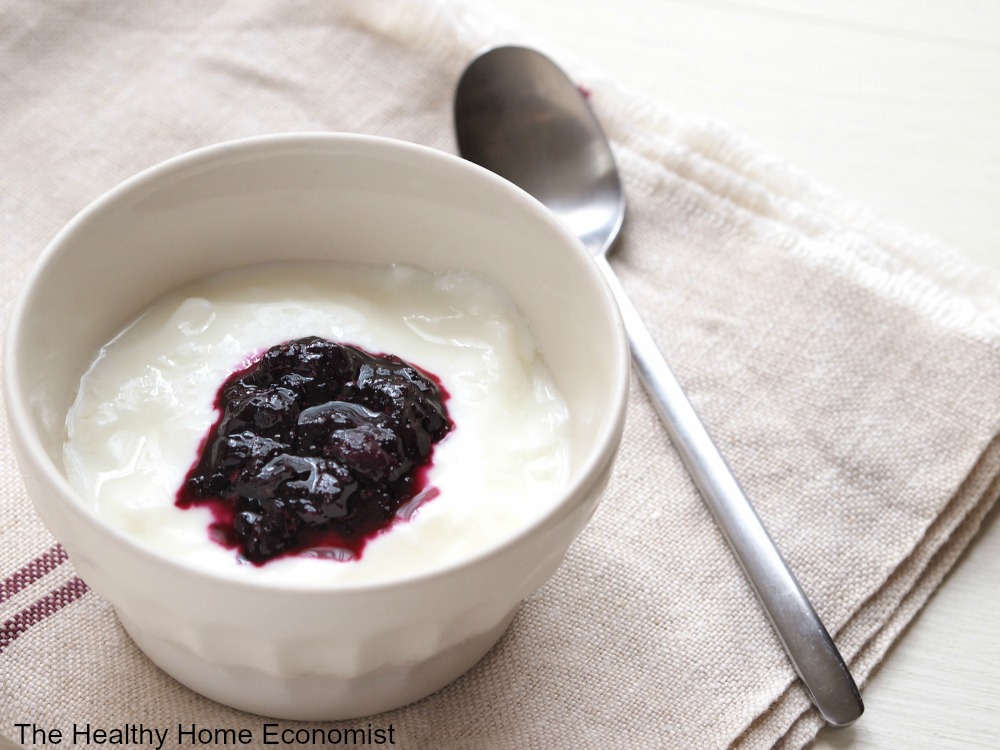 Did you know that commercial yogurt and kefir have little to no health benefit from a probiotic point of view?
The reason is that commercial yogurt and kefir are fermented for very short periods of time.   The length of time is so short (one person in the dairy industry told me that it is frequently only an hour or less) that thickening agents are sometimes added to artificially provide the look and feel of yogurt and kefir that has been properly fermented like would happen if you made it in your own kitchen.
The woeful inadequacy of commercially fermented dairy is why Dr. Natasha Campbell-McBride MD, author of Gut and Psychology Syndrome, recommends eating yogurt or kefir that you've made yourself and fermented for a full 24 hours in order for the majority of the lactose (milk sugar) to be used up and sufficient strength of the probiotic cultures to become established.
Make Your Own Yogurt or Kefir
It is very important to learn how to make your own yogurt or kefir if you wish to enjoy the many health benefits that Traditional Cultures who relied on fermented dairy products experienced.  Making yogurt or kefir yourself has the added bonus of allowing the selection of high quality, grassfed milk and avoidance of the additives and sugar frequently included with most commercially fermented dairy.
Commercially fermented dairy is just not going to cut it!
As a result, my sponsor Pleasant Hill Grain and I have joined forces to bring you this fun Real Food Challenge which will hopefully encourage you to take the important step of learning how to ferment dairy yourself in your own kitchen!
* If you have no idea how to make kefir or yogurt, no worries.  A video how-to is provided for kefir at the end of this post along with a link to a written post describing the steps to make yogurt.
Note that you can also make yogurt and kefir in a slow cooker (see link for recipe and video how-to).
Allergic to dairy?  You can still enter!  Just use coconut milk instead (video how-to at end of post).
Even if making fermented dairy is a regular part of your routine or you've made it before but have gotten out of the habit, you are still eligible to enter to win!
The Prizes
From now until December 21 at midnight, every time you make your own yogurt or kefir (you can also switch between the two if you like), you will get an entry to win a Bosch Universal Mixer with Meat Grinder attachment– a $565 combined value!
The new Bosch Universal Plus Mixer is truly the ultimate stand mixer chosen by the most discerning cooks.  It is not only the strongest mixer in its class, it is also the most durable with an incredible lifespan of 17 years on average. This durability permits heavy duty mixing jobs to be performed with no risk to the motor –  up to 15 pounds of heavy dough can be mixed and kneaded at one time which is the equivalent of 8 loaves of bread in a single batch.
As if the Bosch Universal Plus Mixer plus Meat Grinder isn't enough, there will be a second place prize too, a sleek, black Kuhn Rikon Vase Grinder for all your sea salt, pepper and herbal grinding needs!
It's easy! Just login with either Facebook or your email address and fill in the entry box each time you make a batch of homemade yogurt or kefir.
Don't forget that each and every time you make a batch of yogurt or kefir before December 21 at midnight, you can come back to this post and submit another entry to Rafflecopter to increase your chances of winning!
Getting Your First Batch Started
A video how-to is provided below for both milk based kefir and coconut milk kefir.  You can easily get a batch of kefir started in less than 5 minutes.
If yogurt is your thing, click here for my written blog on how to make raw yogurt using your microwave (turned off of course) as the incubator! And, if you're wondering about Greek yogurt vs regular yogurt and which to make, you can check out the linked article first to help you decide.
Good luck and have fun!