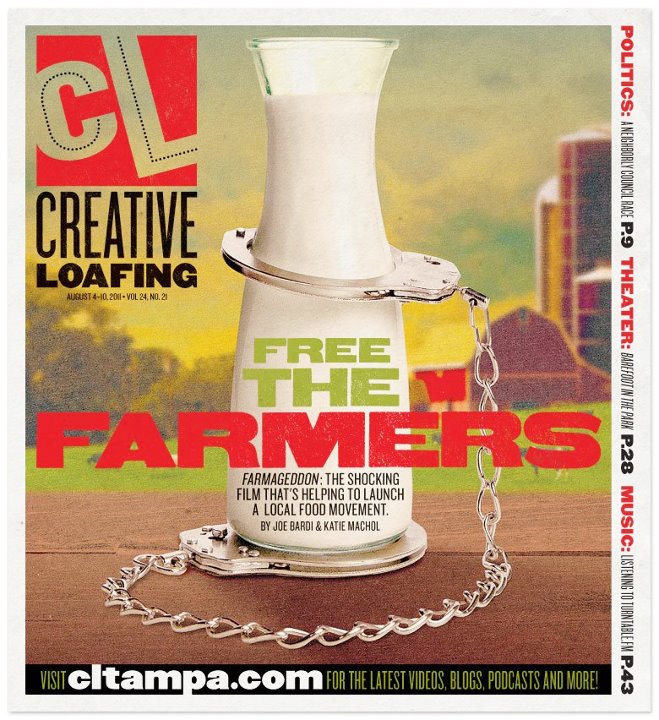 This morning I was interviewed on the Sustainable Living Radio Show on 88.5AM WMNF here in Tampa, Florida.
I was thrilled to be a part of this show along with Kristin Canty, director and co-producer of the critically acclaimed documentary, Farmageddon, The Unseen War on American Family Farms.  
Farmageddon is also the currently featured cover of Creative Loafing, a popular news and recreation newspaper in Tampa Bay.

I've been working for the past few weeks with the most amazing leaders in the Local Food Movement here in the Tampa Bay area to bring this film to town.
This collaboration has resulted in a can't miss community event featuring two sold-out Farmageddon shows along with a trio of organic restaurants and local food vendors on the billing this Thursday afternoon and evening to feed and educate an interested community of folks about the burgeoning Local Food Movement in this area.
This event is even more relevant given the sobering events at Rawesome Foods this past week in Los Angeles where yet another SWAT team raided and stomped all over the local food rights of those members who buy food at this private, non-retail establishment.
Many thanks to the venue, the Roosevelt 2.0 as well as 88.5AM WMNF for sponsoring this important educational event for the Tampa Bay community!