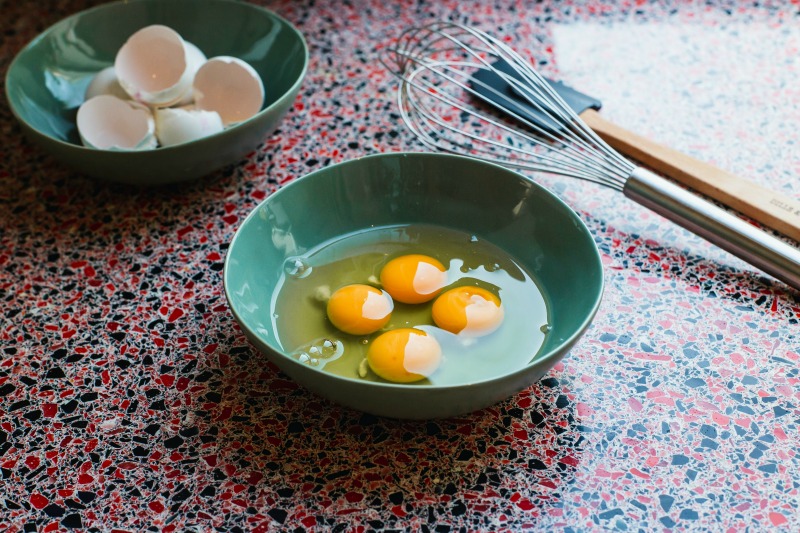 As I was making mayo yesterday afternoon, I decided on a whim to try and crack the eggs like Giada De Laurentiis on Food Network.
Have you ever seen Giada crack eggs? I saw her making a cheesecake over the weekend and watched in amazement as she effortlessly pushed her thumbs simultaneously into each egg creating a small hole that was easily pulled apart into 2 egg halves.
This approach didn't work so well for me.
As I started to apply pressure to the egg, I realized that the shell was so hard that my thumbs couldn't make any headway.
I should have stopped right there. Taking a step back for a moment to contemplate the situation would clearly have been the smart thing to do.
But noooooo.
My stubborn side kicked in and I pushed even harder and then HARDER until finally my thumbs lobotomized the egg creating a small explosion of egg white and yolk into my hair, blouse, and face as well as the kitchen counter and the floor!
Smart move, I thought sheepishly. Why in the world was this so difficult? Giada made it look so easy!
Then, it hit me. Giada's eggs are not the quality, local, free-range eggs I get where the shells are quite hard.  Effortlessly pushing one's thumbs into the shell to crack these types of eggs is basically not a possibility (unless, of course, making a mess is your goal).
Giada's eggs are most likely regular old store eggs with soft shells where a made for TV demonstration showing how to crack an egg is quick and easy.
At least, that's what I told myself to soothe my sore ego.
So, the next time you see Giada crack her eggs so perfectly on Food Network, remember:  "Don't try this at home!  This stunt is strictly for Food Network professionals who use grocery store eggs!"
Oh, and white sugar.
Hmmm.  White salt too, come to think about it.
Oh, yeah.  Almost forgot about the Teflon pan with the metal spatula and the Springform pans. YIKES!
I'll stick with being an amateur, thank you.  At least I know how to not poison myself while cooking.