Table of Contents

[Hide]

[Show]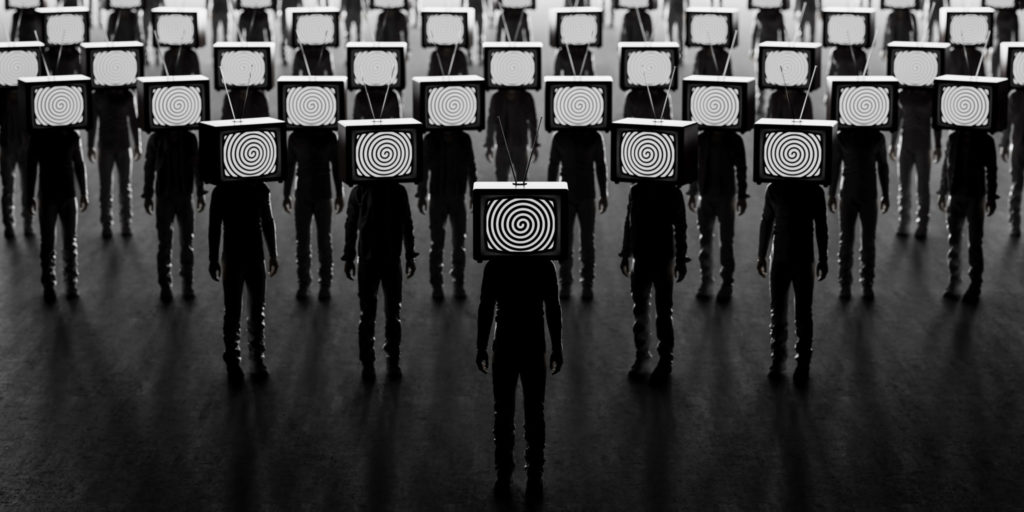 If you're reading this, then you know exactly what I'm talking about when I say "the you know what".
Before I get into the nitty-gritty of having "that conversation" with a friend or family member, let me just say this:
Be forehead-to-the-ground THANKFUL that you are not a person that is easily propagandized or pushed around by peer pressure.
Free Weekly Newsletter + Report on Secrets of Strong Immunity
There is a sizeable percentage of the population who are highly suggestible to irrational ideas especially when it comes at them 24/7 from loud and supposedly authoritative sources.
You've probably seen these people if you've ever attended a live show performed by a mind control artist or mentalist like the Amazing Kreskin.
The first time I went to a show like this, I was in middle school. I wondered how in the world were some people turned into literal zombies simply by closing their eyes and listening to a few words from a dude they didn't even know.
There is another sizeable group of people who aren't as suggestible, but they are what I call "fence riders". They go along with the sheep if the pressure is great enough.
I am grateful every single day that I am not in either of these groups.
Realizing that the person you are about to open Pandora's Box with is heavily brainwashed and likely paralyzed with fear will give you the empathy and patience that is needed to have a shot at a successful outcome.
Lose your temper, roll your eyes, or use sarcasm about what a lemming they are and it's all over.
They are not going to budge.
Using care and concern without pressing their brainwashed buttons gives you a chance at breaking through the fear and stimulating the logic areas of their brain.
So, let's get started!
Don't Try to Change Their Mind
The first thing to realize is that you must let go of "trying to change their mind". You must work with them within the comfort level of their brainwashed bubble.
Indoctrinated people don't tend to have "aha" lightbulb moments like we do. The brainwashing haze tends to dissolve painfully slowly over a long period of time as the result of regular exposure to contradictory evidence.
Thus, simply try to have a discussion about one. single. thing. that they can easily grasp and understand in their irrational state.
Nothing more!
Let them know that what they are preparing to do is have an experimental drug injected into their body. (credible reference with full white paper and video explanation)
Here is the operative information: Not one of these jabs have been approved by the FDA.
They are authorized by the FDA for emergency use only.
In other words, anyone who takes them NOW is considered part of a clinical trial.
Because they are experimental, no one (even medical workers) can be forced to take them until the FDA grants full approval at some future date likely sometime in 2023. Opt out details in this article if an employer is illegally forcing the issue.
Even brainwashed people don't want to be guinea pigs.
Suggest a Delay
If you, can simply show your friend or family member that the jabs are experimental (most don't know!). Then you have a chance at the next step.
Suggest that they delay the decision.
In other words, don't try to get them to decide never to get the jabs. That would be too shocking for their brainwashed mind to handle at one time.
Instead, simply suggest that perhaps the best course of action given that the vaccines are experimental is to delay getting the shots.
Suggest that they wait for full FDA approval in the coming months.
That's it!
I have successfully used this strategy to talk many people off the ledge so far.
It works!
Now, don't get your hopes up too much. It won't work 100% with those who are especially fearful and addicted to TV news.
However, if you have a good relationship with the person you are talking to, simply informing them of the experimental nature of the J&J, Moderna, and Pfizer jabs can be enough to get them to delay action.
And, this could quite possibly be enough for them to never take action at all.
Especially given the increasing numbers of shocking videos being posted everyday to social media of terrible side effects and deaths.
Here are two videos I saw just today …. there are dozens out there if you look.
Good luck!