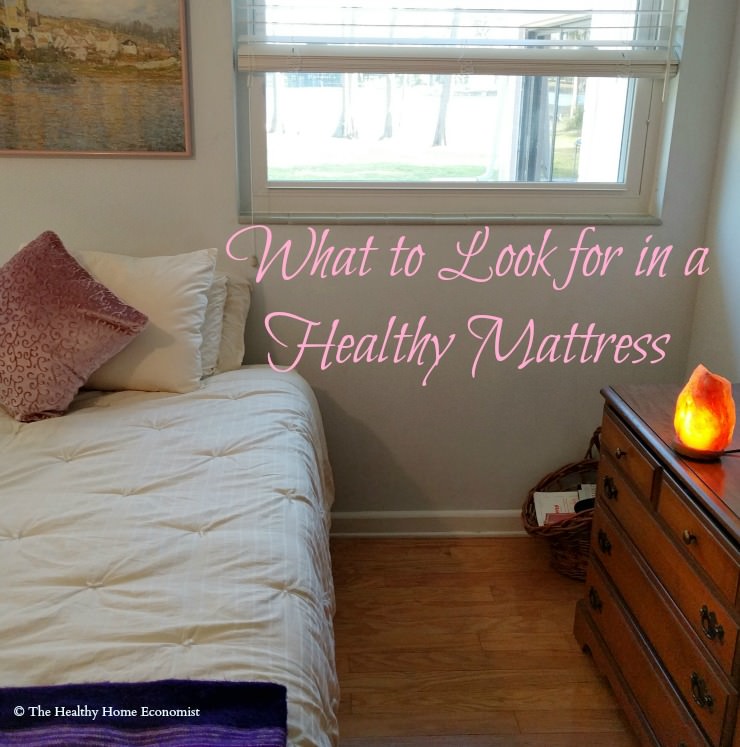 Several years ago, I wrote about how I switched the mattresses in my home to intelliBED in order to finally go green in our bedrooms after years of procrastination. This post generated quite a few emails from those who felt that the best mattress for nontoxic sleep surely must be organic.
The emails suggested that organic mattresses are in fact the healthiest choice for optimal sleep and the environment and that I was greenwashing people with my review of Intellibed which I discovered to be the best mattress on the market (check out the Organix line here).
I politely beg to differ.
In fact, I disagree so much with the assumption that the best mattress must be organic that I have replaced my children's three beds with intelliBED mattresses each with a gel pillow since that original post was written.
After all, just because a food is labeled organic, does this mean it is the best option? Of course not. Any fan of local food that isn't certified organic has experienced this for themselves. The same goes for mattresses.
If you are looking to replace your mattress to improve the quality of your sleep (good decision!) and are being swayed by the argument that the healthiest and best mattress is an organic one, here are some points to consider along with some pictures and video footage of the Intellibed assembly line that I filmed myself while visiting the factory in order to verify all the claims about this bed.
First of all, let me start out by saying this:
If any organic mattress on the market was actually better than Intellibed, trust me, I would be sleeping on it and more importantly, so would my three kids!
What's more, I am not married to my decision about Intellibed. If there was really and truly any other mattress on the market that was better, I would be writing a review about that mattress instead.
I challenge you to dig in and do the research for yourself. I took the extreme step of flying to Salt Lake City, Utah to visit the Intellibed factory and walk the entire assembly line to ensure that the claims about this bed are accurate. But, don't believe me. Don't believe anyone especially a salesperson, marketing materials or even an online review. Find out for yourself by doing the research about the various mattress options available today and ideally sleeping on an Intellibed for a few weeks (no risk 90-day money back guarantee and the lowest mattress return rate in the industry).
The bottom line is that Intellibed continues to be the best mattress on the market the same as it was back in 2014 when I first switched over. This is why it is the preferred mattress used by hospitals for patients who have experienced life-threatening burns and wounds. Here are the reasons why and important issues to consider.
IntelliBED: Best Mattress for No-Allergen, Toxin Free Sleep
Healing and restorative sleep most optimally occur in a nontoxic, hypoallergenic sleep environment. This includes no toxic flame retardant chemicals sprayed on the bed after manufacturing either.
A big misconception about organic mattresses is that they are hypoallergenic and won't trigger allergy or chemical sensitivity problems like synthetic mattresses sprayed with flame retardants like tempur-pedic or sleep number beds. This is marketing spin because organic beds, in fact, are not hypoallergenic at all.
The reason is that organic mattresses use a blend of natural materials like wool that can still cause allergy issues either all the time, on a seasonal basis, or only when immune function is temporarily depressed. Wool, in particular, is a very common allergen and can make people sneeze or itch.
Lanolin, which occurs naturally in wool grease, is a waxy substance produced by the sebaceous glands in a sheep's skin. Many people react to it in a manner similar to cat dander. Exposure to lanolin residue along with the dust particles and organic matter in the wool is what is responsible for creating an allergic response. If you have an allergy to some wool, you probably have an allergy to all wool and would be advised to avoid ALL wool products.
The Intellibed mattress is made with materials that are nontoxic, naturally hypoallergenic, inert (do not conduct heat or cold), breathable and anti-microbial (resist mold and bacteria).
The only mattress material currently on the market that fits this description is made with a co-polymer gel called isoflex(r) that is manufactured using food grade materials. It is used in hospital mattresses for cushioning severe wound care and burn patients as it speeds healing and prevents bed sores. This material is called Intelli-GEL® when used to manufacture Intellibed mattresses for home use. To meet federal flame retardant regulations, nontoxic silica thread is used, which is the same stuff in the little white packets in supplement bottles. These materials are so nontoxic that the VOCs (volatile organic compounds) on the Intellibed assembly line are basically zero.
See the photo below that I took to personally verify this claim.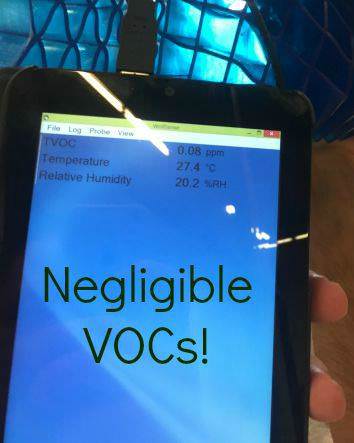 Below is a short video clip I filmed of the Intellibed assembly line. Notice that no masks or protective gear are being used by the workers because the assembly line air and overall environment is so non-toxic. In fact, the VOCs actually measured slightly higher in the office building nearby than on the factory floor where the Intellibeds were being put together!
IntelliBED: Best Mattress for Durability
I became very turned off by the claims of the natural and organic mattress industry when the two beds that I purchased for my boys' room a few years ago lasted only 18 months! I want to emphasize that I properly turned and flipped the mattress every single month as I was advised at the mattress store. Still, they both still started to sag badly within 6 months of buying them. What a waste of money. I couldn't even give them away they were in such bad shape even though I considered them still new.
The truth is that natural and organic mattresses just don't hold up in my experience. Even a sturdy wool mattress will get you 5 to at most 10 years of maintenance-free use especially if you are a large person or have two people sleeping in the bed. This story about an 84-year-old woman named Mary Hopkins who has had the same wool mattress (twin size) for over 40 years hides a very inconvenient truth … what she does to maintain it:
… the wool can be pulled out, stuffed, in batches, into pillow cases, put through the washing machine and after drying, carded back into fluffy pile before being returned to the mattress cover. "Every few years, it needs to be re-carded, as the wool slowly compacts," says Mary. "In Italy during the summer, the mattress man, il cardatore, tours Italian homes, pulls out the wool from their mattresses, re-cards it, adds some more, as the process reduces the stuffing a bit, rebuttons and then sews the mattress cover back up again." Mary submitted her mattress to this process four times. (2)
In the 44 years that Mary has used her mattress, it has had to be re-carded 4 times … that's about the 10-year maximum life of a typical organic mattress. I guess she slept on the couch while this was happening. Moreover, I'm guessing she is a very small woman and that is one itty bitty twin mattress. I imagine that two people sleeping on a queen or king-sized wool mattress would cause the wool to compact much more quickly especially in the center or if either of them had any weight issues!
Given the expensive cost of an organic mattress which can cost upwards of $5,000 for the whole set-up, do you really want to be spending that much money every 5-10 years?
In contrast, an Intellibed doesn't need any maintenance and it will still last you 30+ years with no issues other than a recommended turning once or twice a year. It also comes with a 20-year guarantee (the longest permitted by federal law) although it will probably last you even longer than that.
Below is a short video clip I filmed at the Intellibed factory to show just how durable the Intelli-GEL® is that makes up this nontoxic bed. This is why an Intellibed lasts for 30+ years and an organic mattress or any other type of conventional bed would need to be replaced 3-4 times in the same period of time. Which is better for the environment (and your wallet)? A product that has to be replaced often unnecessarily clogging up the landfills or one made from nontoxic, food-grade materials that can last for decades?
IntelliBED: Best Temperature Neutral Mattress
Intellibed mattresses sleep neither hot nor cold. They don't trap the heat against the surface of your body like memory foam can. They also don't soak the heat out of your body. This is due to the inert material that comprises an Intellibed – the patented Intelli-GEL®.
This means that people who tend to be naturally a bit warm or a bit chilly at night are both comfortable sleeping on it. This is especially good news for couples since many seem to be made up of one person who is hot most of the time and one person who is cold most of the time paired together in the same bed!
You've never experienced a more comfortable sleep temperature-wise than when you slumber on an Intellibed.
Best Mattress Sleep Technology Too!
While it is all well and good if a mattress is hypoallergenic, nontoxic and will last a long time, none of this really matters unless you get a good night's sleep while laying on it.
Sleep is a critical part of the three-legged stool of health: diet, exercise, and restorative sleep.
This is where Intellibed beats out all other mattresses – organic or not – the most. The hypoallergenic, nontoxic Intelli-GEL® used in Intellibed cushion hips and shoulders and is so effective at reducing pressure points that it has been patented. Even expensive memory foam or latex foam don't compare as the Intellibed reduces pressure in these areas by as much as 80%. The best way to describe it as you are laying on it is that it is soft but yet firm. See the imaging below of pressure points experienced by the human body while laying on the various mattress types on the market.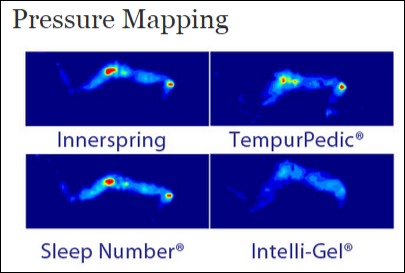 The virtual elimination of pressure points on key areas like the back, pelvis, and shoulders is why over 900 doctors, chiropractors, and orthopedic surgeons recommend the Intellibed for their patients including Robert Troell MD, the "Sleep Guru" from Stanford (1). In addition, Intellibed uses the same patented mattress technology chosen by hospital burn units because it provides relief for convalescing patients who would otherwise experience excruciating pain, inflammation, and compromised tissue healing on other types of mattresses.
But, beware of gel bed knockoffs that are starting to hit the market. They are not nontoxic like Intellibed and when tested, perform like foam beds and nothing like the patented Intelli-GEL®.
IntelliBED: Best Mattress AND the Best Value
Many times, getting the "best" of anything means paying a premium. Not with Intellibed. Not only is Intellibed the best mattress out there today, but it is also a great value costing less than other top of the line beds on the market, organic or conventional.
If replacing your mattress isn't in the budget right now, at least consider an Intellibed topper. My son uses one at school, as he is forced to use the standard dorm mattress. With the topper, he gets the extra support, temperature neutrality, and nontoxicity benefits. It makes his school set-up almost as good as the Intellibed he has at home.
Price and compare the options for yourself!
Go Nontoxic with your Mattress *Risk Free*
I hope this article better explains why we have four Intellibed mattresses and pillows in our home and why we didn't choose any of the organic alternatives. Just because a food or product is certified and labeled "organic" doesn't necessarily mean it's better.
If you would like to try an Intellibed for yourself, click here for more information or to do an online chat with one of the folks who work at the company. If you decide to order and try one risk-free for 90 days, use coupon code HealthyHomeEconomist to get 10% off your total purchase. In addition to the discount, you will receive a set of organic cotton sheets and a deluxe mattress protector. Free shipping and set-up are included!
I really hope you decide to try the Intellibed difference for yourself. At the very least, get a mattress for one of your kids and get their input. Kids are brutally honest, aren't they? Here's what two of my children say … my daughter says that sleeping on her Intellibed is like "sleeping on a cloud". When on vacation with my middle schooler, he said the best thing about getting home was sleeping on his Intellibed again!
*I was not paid or asked to write this article, nor did I receive any free product for doing so. I believe so much in this bed, however, that I have agreed to put my name and picture on the intelliBED website as a testimonial. Some of the links in the article are affiliate links.