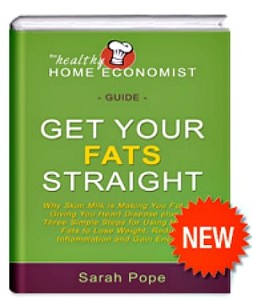 A little over 3 months ago, I released my very first eBook Get Your Fats Straight. My primary goal for writing this book was to keep the critical discussion about fats very, very simple.
Unlike most of the books on fats out there today, Get Your Fats Straight can be easily understood with no Chemistry degree required – which fats to eat and why and which fats to avoid and why — along with how to incorporate the good ones cost effectively and practically into your family's diet (simple recipes I use in my own home included).
As I mentioned in a brief video I filmed about the book last month, one of the reasons I chose to release Get Your Fats Straight on Amazon Kindle rather than a one time PDF download or a traditional paper book was so that folks who purchased the book could easily get any updates and new research I added in the future for free and at their own convenience.
Well here we are just a few months down the road and I wanted to let you all know that I have recently uploaded a new version of Get Your Fats Straight to Amazon Kindle.  As promised, those of you who already own the book get all the updates free of charge!
There are numerous updates scattered throughout the book, but the three biggies include the following:
Identifying the original source of the research that cracked the code regarding the mysterious X-Factor of which Dr. Weston Price frequently and reverently wrote in his nutrition classic Nutrition and Physical Degeneration.
Clarifying the huge difference in fatty acid profile between tallow from grass-fed cows and tallow from primarily grain-fed cows.  Not all tallow is created equal!
Important updates on Vitamin D requirements – especially during sunny season.
Want to download the updates for free?  Here's all you need to do if you've already purchased Get Your Fats Straight: