A holistic dentist explains whether dental sealants are necessary to protect children's teeth and natural alternatives to consider instead.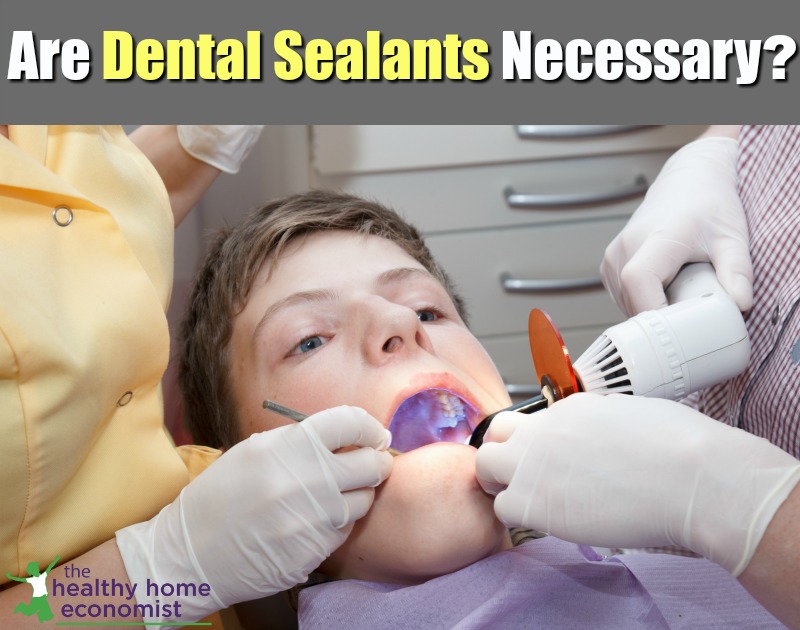 I've been a holistic dentist for over 40 years. Recently, some patients asked me if I thought that sealants are a safe and necessary service for their young children.
Their pediatric dentist had scared them into believing that their children, who have never had a single cavity, might suddenly need root canals on their primary baby teeth unless they were sealed in a protective plastic coating.
Dental plaque is like sand on the boardwalk at the beach. It comes back every day unless it is thoroughly swept away. Good daily hygiene and avoiding acidic beverages and acid-forming foods are the best way to avoid decay.
What are Dental Sealants?
A dental sealant is a thin, clear plastic material that coats a tooth to protect it from acid erosion and bacteria that cause tooth decay.
Chewing surfaces of molars and pre-molars are vulnerable to decay because they have natural fissures and grooves.
A sealant fills these crevices to prevent food particles from entering and becoming trapped. Hence, sealants allow for easier oral hygiene and a reduced risk for cavities.
How is a Tooth Sealant Applied?
Applying a sealant is a non-invasive procedure performed by a dentist or dental hygienist.
The process is simple:
The tooth must be thoroughly cleaned of debris and bacteria.
After cleansing the tooth, an etchant solution is applied so that the sealant will adhere to the tooth enamel.
The clear plastic film is hardened with a curing light.
Dental Sealant Dangers
Some sealants contain the highest levels of volatile BPA, which studies suggest may be an estrogenic, hormone-altering agent.
In my opinion, sealants should only be used in children with an excessively high decay rate. While BPA-free sealants are available, they still contain similar chemicals, which may be just as problematic.
Hence, safer alternatives are best considered first. Sealants should be a last resort when other methods fail to produce results.
Fluoride vs Sealants

Another option for strengthening your child's teeth is a concentrated fluoride treatment applied topically as a thick gel or in a tray.
Either way, the chemical is easily swallowed. Fluoride has been already added to most public waters and has no value ingested and may cause Fluorosis and other illnesses. A Harvard study found that fluoride exposure in children has also been linked to lower IQ.
In short, while fluoride does work as a topical agent on children's teeth up to the age of 18, it has no benefits when taken internally and can actually cause long-term damage.
Thus, fluoride is not a safe alternative to sealants.
Natural Alternatives
The natural alternative to dental sealants is to balance the mouth microbiome. Imbalanced flora in the saliva of the mouth contributes greatly to dental decay.
Fortunately, flora in the mouth can be adjusted quite easily via dietary changes and topical treatments.
An acidic diet promotes the bad bacteria that cause decay. Hence, the first thing I do in my office is to check oral pH followed by a caries risk assessment.
If a patient has an acidic oral pH and scores high on dental caries risk factors, I recommend changes to the family's diet and lifestyle and incorporation of pH adjusting treatments.
This includes an immediate 5-day oral cleanse. Post-cleanse maintenance involves switching away from toxic conventional toothpaste to a pH adjusting tooth tablet.
Some doctors suggest a probiotic specifically designed for oral use as additionally helpful to the process of ensuring the proper flora balance remains in the mouth to naturally deter tooth decay without the need for toxic sealants or fluoride.