Table of Contents

[Hide]

[Show]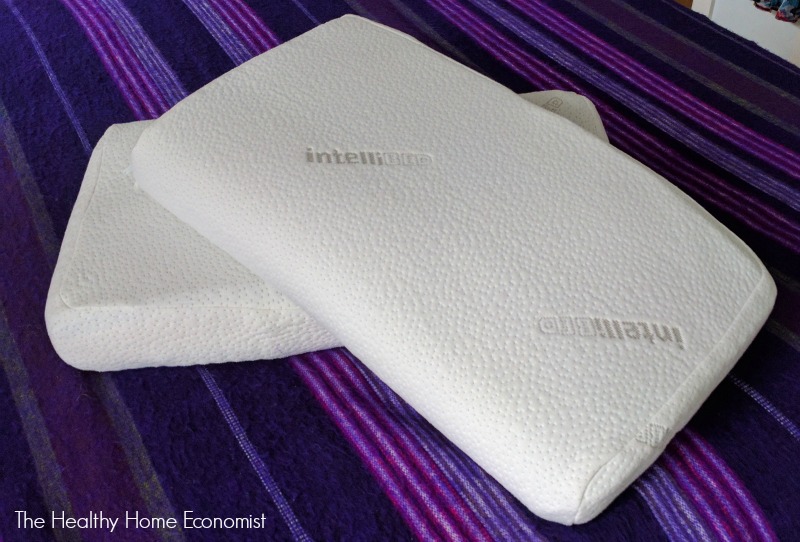 One of the most common questions I receive about our intelliBED mattress (we have 5 of them!) is actually not about the bed at all … it's about intelliPILLOW!
I'm guessing the reason is that Federal law prohibits the return of pillows, although the intelliBED itself offers a 90- day money-back guarantee. This combined with the lowest return rate in the mattress industry.
It makes perfect sense that people want to know if a gel pillow is actually comfortable before buying since the purchase is nonrefundable.
Is intelliPILLOW Truly Nontoxic?
People are waking up (literally!) to the fact that exposure to toxins in the bedroom adversely affects the duration and quality of sleep. As a result, it comes as no surprise that conventional foam pillows involve the same flame retardant chemical exposure risks as foam mattresses. To compound matters, the toxins are even closer to your nose and mouth while you sleep with pillows!
What about natural down pillows, my favorite before I switched to intelliPILLOWS? According to Dr. Mercola, down carries the greatest risk of dust mite infestation and hence, the greatest allergy risk. Down is also notoriously difficult to clean in order to remove an infestation. Fungus and mold growth is another risk over time from the warmth and moisture of your head and body (1).
What about popular hypoallergenic pillows? While they may relieve morning allergy symptoms, they're stuffed with polyester and foam, both synthetic materials made from crude oil. These very soft thermoplastics continuously emit tiny plastic vapors that are inhaled as the fiber warms against your body (2).
Wool or organic cotton pillows are a healthy option, but wool is an allergen for some and both materials trap heat and moisture with the risk of mold over time. Replacing these types of pillows frequently to avoid fungus risk can get very expensive as these quality materials aren't cheap!
Enter intelliPILLOW (they are part of the Organix mattress line).
Foam Wrapped in intelliGEL
IntelliPILLOW is a hybrid pillow made of gel and foam. The gel is the same used in the intelliBED mattress – completely inert and nontoxic. This article on intelliBED vs organic mattresses contains video footage I filmed while visiting the factory where intelliGEL is produced. The air is so clean there that the workers on the factory floor don't require any protective gear, and the VOCs (volatile organic compounds) measured right where the gel is coming out of the machine is virtually zero.
What about the foam in the intelliPILLOW? Good news on that front as well. The foam which the intelliGEL wraps inside the pillow is "surene" foam. It's very soft, yet supportive. It is certipur, which means:
The foam is made without ozone depleters
No flame retardants (PBDEs, TDCPP or TCEP ("Tris")) are used
No mercury, lead, and other heavy metals
Made without carcinogenic formaldehyde
No hormone-disrupting phthalates (regulated by the Consumer Product Safety Commission)
Low VOCs (Volatile Organic Compound) emissions for indoor air quality (less than 0.5 parts per million)
In sum, intelliPILLOW combines the natural benefits of pure down pillows with the practicality and low allergy/mold risk of inert gel. It was the best of both worlds in my view, which is why every bed in our home has an intelliPILLOW. My son, who is going off to college soon, has even asked for an intelliPILLOW for his dorm room! He loves that a gel pillow made with the patented intelliGEL is temperature neutral – neither hot in the summer nor cold in the winter. No need to flip your pillow to the cool side when you own an intelliPILLOW.
intelliPILLOW Comfort and Affordability
As mentioned above, an intelliPILLOW is incredibly comfortable. The temperature neutral nature of this unique pillow is one of the best features, in my opinion.
For some people, it may take a little while to get used to them. My husband and sons loved them right away, but my daughter and I took a few weeks to adjust. Without exception, our entire family loves them now!
Please note that we've had our intelliPILLOWS for going on a couple of years. IntelliBED now offers a naturally contoured intelliPILLOW that mimics the shape and thickness of conventional foam and down pillows. Hence, there is likely no adjustment necessary for those who buy these new models.
The standard size (recommended) of intelliPILLOW is 26″ wide x 14″ deep and 5″ thick. The Lo-Profile version for those who need less head/neck support is 26″ wide x 14″ deep and 4″ thick.
With regard to value, an intelliPILLOW costs roughly the same or even a bit less than a quality down pillow or eco-wool/organic cotton pillow. The good news is that intelliPILLOW is going to last years longer without the allergy, mold and/or fungus risks.
Have you tried an intelliPILLOW? If so, what did you like or not like about them? You can learn more about them here.