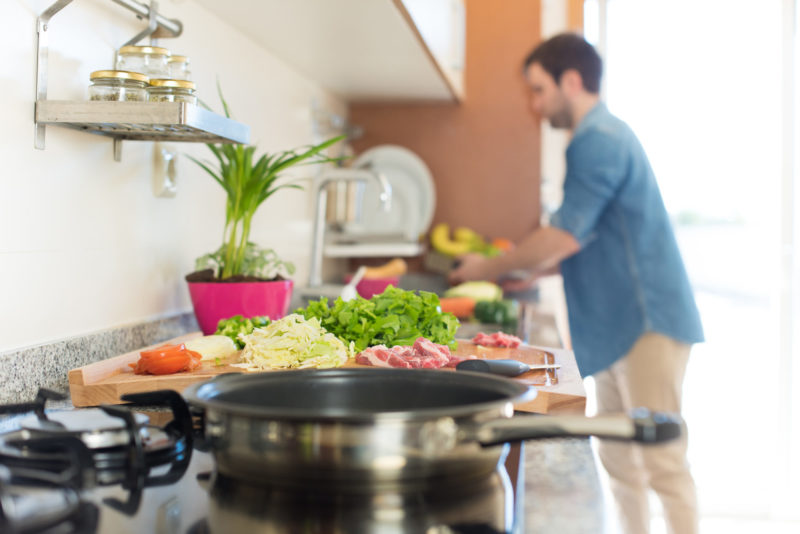 The Johns Hopkins Bloomberg School of Public Health has made a very important discovery.
People who eat home-cooked, from scratch meals almost every day consumed nearly 1,000 fewer calories each week than those who went with home-cooked once a week or less.
The researchers analyzed data from the 2007-2010 National Health and Nutrition Examination Survey from more than 9,000 participants aged 20 and older.
The survey asked the participants detailed questions about they ate during a 24-hour period as well as other eating behaviors such as fast food in the past 30 days.
The 8% of adults who cooked dinner once a week or less consumed on average, 2301 calories per day (84 grams of fat and 135 grams of sugar). The 48% of adults who cooked dinner 6-7 times per week consumed on average 2164 calories per day (81 grams of fat and 119 grams of sugar).
That's 959 calories less per week on average.
The findings also suggest that those who frequently cook at home, defined as 6-7 nights a week, consume fewer calories on the occasions when they do eat out.
And that's bad news for millennials. The average millennial eats out or buys takeout food five times per week, according to a Bankrate survey.
Give or take 1000 calories each week may not seem like much, but it translates to 52,000 calories per year.
Since there are about 3,500 calories in a pound of fat, eating 1000 calories less each week from home-cooked meals (or 52,000 fewer calories per year) is almost 15 pounds!
Sometimes, the answer to a problem … such as how to finally take off and keep off that niggly final 10 pounds … comes in a brown paper bag.
Not sexy or expensive.
Cook. For. Yourself.
No magic to it. Just good old fashioned elbow grease.
References
(1) Home Cooking is the Main Ingredient in a Healthier Diet
(2) Financial Vices of Millennials