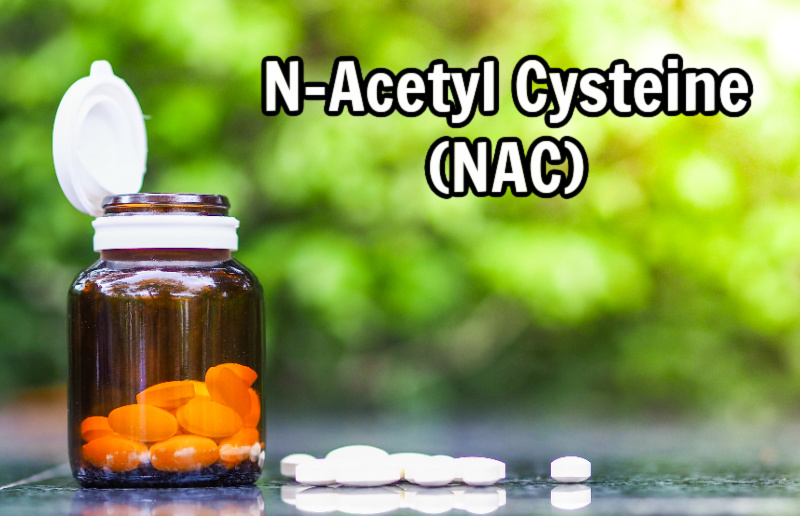 N-acetylcysteine (NAC) is a precursor of the amino acid L-cysteine that has proven to be a very powerful antioxidant.
NAC works by moderating mucus secretions, which is one of the major ways in which all variants of COVID can be transmitted.
It also stimulates the biosynthesis of glutathione. This "mother of all antioxidants" helps eliminate free radicals from the body no matter where they come from…diet, environmental exposure, viruses, toxic gut imbalances and so on.
Free Weekly Newsletter + Report on Secrets of Strong Immunity
NAC also has very low toxicity and has been approved by the FDA for many years.
Recently, prominent medical doctors such as Dr. Lee Merritt MD have been advocating for NAC to both prevent and treat COVID infections…even late stage infections characterized by cytokine storms. (reference)
Dr. Merritt also suggests ongoing use of NAC to protect the unvaccinated, who due to home or work environment, must be around COVID vaccinated individuals who are continuously shedding spike proteins.
Studies on NAC for COVID
To date, here are the most prominent studies on NAC:
The first study above outlines the various uses of NAC used as a nutritional supplement for conditions such as PCOS, premature birth and recurrent pregnancy loss, acetaminophen (Tylenol) overdose, chronic bronchitis, liver cancer, ulcerative colitis, asthma, Alzheimer's, and Parkinson's disease.
The second study published in Therapeutics and Clinical Risk Management suggests that the antioxidant, anti-inflammatory, and immune-boosting properties of NAC may prove beneficial to preventing infection from COVID-19.
Due to the success of NAC in treating sepsis, the research also indicates that it may be able to treat severely ill COVID patients. This includes those who are most at risk such as the elderly and immunocompromised.
The third study was published in the journal Future Microbiology. It suggests that 600 mg/day of NAC could serve as a preventive measure against COVID.
This includes those likely to have repeated exposures such as healthcare workers.
Most interestingly, the study suggests that NAC may be particularly beneficial in cases where personal protective equipment is in short supply.
In addition, NAC may prove beneficial for those who have been forced to take the COVID injections due to restrictive work situations. Evidence to support this purpose is anecdotal at this time and not confirmed via scientific study.
Why is Access to NAC Under Attack?
Unlike more difficult to obtain pharmaceuticals such as hydroxychloroquine and ivermectin, NAC is available without prescription.
Thus, NAC is one of the most effective remedies available to everyday people to protect themselves from all things COVID (vaccinated spike protein shedders, COVID transmission/infection, AND reducing COVID symptoms).
Because of this, it is not surprising that the medical mafia in cahoots with government authorities are trying to prevent access to NAC despite its stellar safety record and research supporting its efficacy. (reference)
Thus, many are stocking up as recommended by Dr. Lee Merritt as we approach what may be a very difficult winter season for covid variant transmission (delta, mu, etc).
Best and Worst NAC
If having NAC on hand seems wise, the next question is…which brands are best?
I've been getting many requests about this, so I spent some time vetting as many NAC brands as I could find online.
Get the Right Dosage
According to the research, 600 mg capsules is the best dosage. If the product is powder based, 1/4 tsp is the equivalent dose.
Thus, avoid brands that have larger doses such as 1000 mg capsules. Too much NAC can cause uncomfortable symptoms such as explosive diarrhea and cramping.
Also avoid brands that are less than the scientifically supported dosage of 600 mg per capsule. I noticed several brands that were 500mg or even less.
Avoid "Juiced" NAC
I would also suggest brands that ONLY contain NAC.
"Juiced" NAC is not necessarily going to be any better and it might be worse synergistically speaking. There is no research to support these additional ingredients.
Some of the unnecessary ingredients in NAC supplements that I came across include:
L-Selenomethionine
Sodium molybdate
L-Tyrosine
Green tea
Milk thistle
Beta Glucan
Dicalcium phosphate
Best Brands to Consider
After looking at over two dozen brands of NAC, here are the top ones I found that were also a reasonable price given that NAC is not an expensive substance. In other words, watch out for price gouging!
Life Extension (Best)
Health Thru Nutrition (this is the one I'm currently using, although I will buy Life Extension next time).
Puremedics
Integrative Therapeutics
I also noticed while putting together this review that many brands of NAC were sold out. This may be due to government pressure to remove it from the market, supply chain disruptions, or a combination of both.
Whatever the reason for the apparent shortage of NAC, if you plan to stock up for this coming winter cold/flu/covid season, I would not delay!