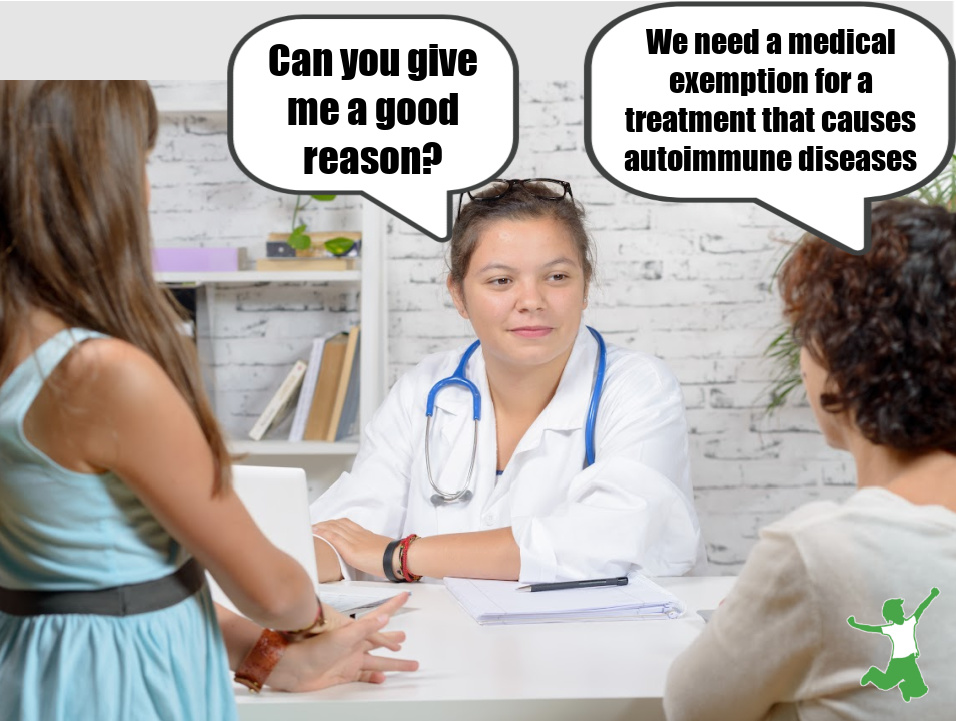 Critical thinking is the ability to examine the facts, pseudo-facts, fallacies, pros and cons of a situation in an open-minded fashion from every angle…without emotion or pre-existing judgments…to determine the best course of action.
Many people assume that those with high IQs such as physicians, are naturally endowed with these important life skills.
This is why patients most often submit to the frequently error-prone judgment of their physicians without taking the time to question their conclusions or at least seek a second opinion first.
Free Weekly Newsletter + Report on Secrets of Strong Immunity
While some doctors are quite good, even exceptional…at critical thinking, MOST are not in my experience.
I was fortunate to learn this important lesson up close and in person at a very early age.
My Dad, a family physician of 40 years, took the time and care to point out to me how clueless medical professionals, who should know better, frequently can be.
The real life examples he used were on his rounds at the hospital on Saturday mornings. For a short period of time while in middle school, I made those rounds with him.
That special time changed my life forever!
I learned so much as we conversed before/during/after his consultations with nurses, doctors, specialists, technicians, orderlies, and even patients (sometimes I went right into the hospital room with him if the patient was comfortable with that…most were, as seeing a child was very uplifting).
Dad used to point out to me the errors that other medical professionals treating his patients would make … he spent a large portion of his time undoing these decisions which sometimes could have proven disastrous.
While my Dad made a fraction of the income his physician-peers made because he was a "surgery and drugs as a last resort" kind of practitioner, he slept well at night (and outlived them all by a decade or two too…peace of mind has its health benefits!).
He also pointed out to me the God-complex physicians sometimes exhibited…consistently inflated feelings of personal ability, privilege, or infallibility.
One time I witnessed an abusive doctor literally throw a stethoscope at a nurse who questioned his choice of drugs for a patient. The nurse was right, the doctor was wrong. And he didn't like it one bit.
These experiences helped me develop critical thinking skills at a young age, and I can't tell you how many times my skepticism of this or that fad helped me avoid some very serious consequences.
Thus, when I had my own children, I was very conscious about helping them develop these skills too.
You have no doubt noticed that some children are quite natural critical thinkers.
Others have to be helped along.
The good news is that the vast majority children can learn to be awesome at thinking for themselves against the social grain if necessary.
Whether or not they are a good student or have a high IQ does not impact their ability to learn critical thinking at all!
Since I am not a physician, I did not have the luxury of taking my children on hospital rounds like my Dad did for me.
However, as a Mom with three kids in tow about town, I did have real life to use.
And wow, there are lots of everyday situations you can use to your advantage as you use "teachable moments" on a year in and year out basis to train your children to think for themselves and not be programmed by anybody else's worldview.
Hint: don't expect ANY school to do this for you. While a few will help (most won't), nothing will be as effective as doing it yourself.
More on this below.
Critical Thinking and IQ are NOT Mutually Exclusive
Besides my early experiences with my Dad's hospital rounds, how do I know that high IQ and critical thinking do not necessarily go together?
I used to be a hiring manager for the IT department for a large corporation back in the day before I had a family.
We tested applicants for our department for basic IQ during their initial interview.
This would tell us if they were smart enough to actually do the job. If they got through that part, they came back for a series of second interviews where they were tested more in depth and this test included critical thinking.
I was shocked over and over that some people who tested very high on the IQ initial test tested terribly on the critical thinking.
I always based my hiring decisions on the critical thinking and not the IQ and those people always turned out to be better hires than the straight smart people that had poor critical thinking skills.
People with poor critical thinking skills are more prone to being brainwashed by whatever narrative is being force-fed to them at the time.
Based on my experience as a hiring manager, my estimate is that less than 5% of people have really good critical thinking skills naturally.
This is why it is so important to make sure you teach your kids! The odds are not in your favor if you leave it to chance alone.
How to Develop Critical Thinking in Children
As I mentioned above, developing critical thinking skills in my children was one of my top goals as a mother.
The easiest time to do this is when they are young. As soon as they start to show signs of some discernment and can converse well around age 2-3 is when I actively started to help them with this.
Getting through to them once they hit the more rebellious years becomes more challenging.
However, the method is the same.
Simply point out mismatched narratives that don't make sense wherever you may find them.
Commercials, food labels, school curriculum, billboards, magazine headlines at the supermarket checkout line etc.
Pick up a box of colorful, alluring cereal that says "healthy breakfast" on the front and then read the nasty ingredients out to them and say, "wow, this isn't healthy at all, is it?".
Pretty simple process!
Point it out. Keep doing this over and over … for years. The repetitiveness catches on!
Soon they are doing it themselves and even pointing out false narratives to YOU!
Were my efforts successful? While you never know what the future will bring, as of right now, I am grateful to report that all three of my children are exhibiting critical thinking skills amidst the craziness and the forced-down-your-throat narratives of the past two years.
My oldest even survived the brainwashing university system, graduated, and still is able to think for himself!
Whew!
My youngest is in high school and tells me all the time about how the kids robotically parrot the narratives they are fed on social media. She is proud of the fact that she thinks about issues first and comes to her own conclusions after researching both sides.
Is my view, the healthcare system is going to become even more dangerous than it already is (forced standard of care narratives that aren't necessarily optimal for all). This is because the critical thinkers are leaving or getting fired because they will not comply with forced mandates.
It is the critical thinkers that commonly save the day in a healthcare situation where something goes wrong or is unexpected.
They're the problem solvers who can think outside the box and figure out how to resolve the situation without tragic outcome.
Teaching our children these skills is crucial to reversing the downward spiral of healthcare worldwide over the coming years to build a system that focuses on traditional diets that worked historically and evidence-based therapies that are most beneficial and effective … NOT the ones that bring authorities the most money and control over the public.