Royal Berkey Water Filter Giveaway ($283 Value!)
Giveaways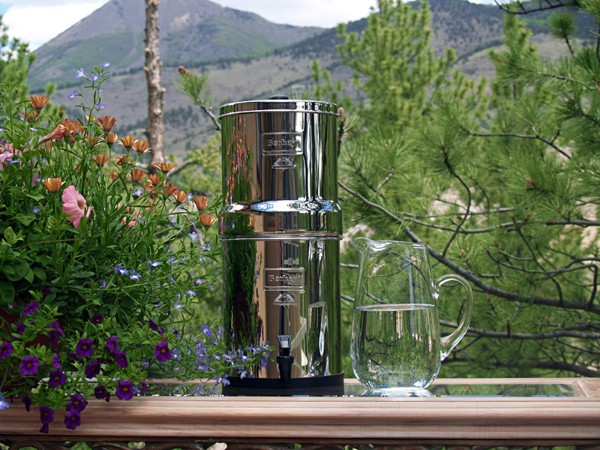 Today is my birthday and I thought it would be fun to turn the tables on the whole birthday thing and give away a present instead!
Not just any present either – a Royal Berkey water filtration system – the perfect size for a family of 2-6 people!
July and August are the hottest months of the year in the Northern Hemisphere and with the heat comes the challenge of ensuring that you get enough fluids to avoid common dehydration problems like fatigue and headaches.
The great news about a Berkey water filter is that it will take out all the impurities so that you drink nothing but pure water.  All pathogenic bacteria, viruses, cysts, parasites herbicides, pesticides, VOCs, organic solvents, radon 222 and trihalomethanes are effectively removed.  Even food coloring added to the water is removed while leaving all beneficial minerals intact.
The water purification elements that come standard with the Royal Berkey have the ability to purify both treated water and untreated raw water from sources such as remote lakes, streams, stagnant ponds and questionable water supplies in foreign countries.
This means that the Berkey Water Filter can be used to purify your city water (fluoride filter available) or your well water. It can also be used to purify water from a backyard pond or stream should any issues with electricity or water pressure occur causing lack of access to treated water.  This makes the Berkey the perfect water filter for any economic environment.
Want one?  I know I do – we live on a small fishing lake and having a water filter that has the ability to filter both our potable well water and our lake water during power outages when our well doesn't function is of great value to us.
How to Enter to Win
To enter the Royal Berkey giveaway, all you need to do is click the link below and visit the Berkey Water Filtration Systems website. Residents from the 48 contiguous US states and Canada are eligible. If you don't see the link, turn off the ad blocking software in your browser and make sure javascript is enabled.



After clicking the link above, click on the Rafflecopter widget below (it sometimes takes a few moments to load if you don't see it right away).
Enter the mandatory entry info in the Rafflecopter widget and then sign up for any extra entries as you wish!
The giveaway will run from today through Thursday, August 8, 2013 at midnight.  The lucky winner will be selected by Random.org and announced no later than Sunday, August 11, 2013.   Good luck!
Sarah, The Healthy Home Economist
Subscribe for Updates
Subscribe today and gain access to my exclusive & FREE weekly newsletter packed with the latest health news, Real Food recipes, video how-to's, special discounts and much more!
Leave a Comment